Baked Brie Bacon and Turkey Melt with Balsamic Glaze
Baked Brie Bacon and Turkey Melt with Honey Balsamic Glaze. Gooey, silky, crispy, crunchy deli-style turkey melt. Melted baked brie and bacon added to create a perfect sandwich.
Within this post you'll learn how to make this unique turkey melt sandwich bursting with flavor; as well as how cook down liquids and sauces, either with evaporation or thickening agents.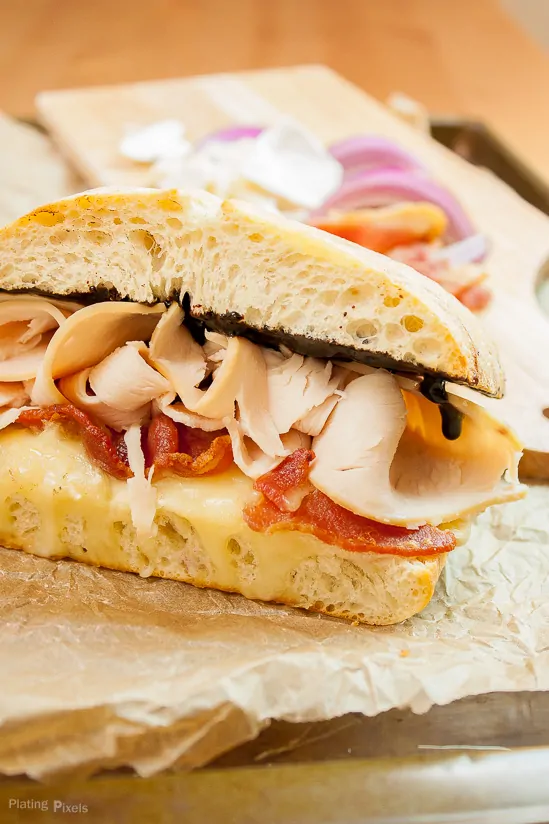 Today I'm starting a new morning ritual; well actually continuing an old one. In a nutshell it involves getting up super early and getting more things done. The alarm clock went off at 6am, and eventually will be closer to 5. To some of you that may not be too early, but given that I don't go to work till 9:30, that extra roughly 3 hours or prime productive time will be invaluable.
It also helps that I just got back from vacation to South Carolina, which is three hours ahead. I snuck that tidbit in there. If you've been checking out my social media lately, mainly Instagram, you'll know I visited Charleston, South Carolina for a cook-off competition. More details on the trip in future posts when I have time to properly elaborate and do this amazing place justice.
Of course almost all the extra time will go into the blog. After meditation and brewing a necessary cup of coffee, it was on to editing photos. Surprisingly that's one of my favorite things about blogging, besides cooking and photography. My inner (slightly OCD) graphic designer gets to come out.
I finished editing photos for this recipe, and an upcoming sweet potato breakfast taco recipe you don't want to miss. Some various other tasks, social media, promotion, and writing, and somehow those three hours fly by.
I wish this Baked Brie Bacon and Turkey Melt with Balsamic Glaze was part of my daily ritual too. As in waking up early for a productive routine, simple things can lead to great results. This deceptively simple (7 ingredient) deli-style sandwich may be the most flavorful and unique one you've ever had.
The pairing of turkey, bacon and brie create a rich and savory meal that complements with slightly sweet and tangy sludge-like honey balsamic glaze. Cooked down to a thick syrup and easily spread onto the sandwich (see cooking tips below fore more on this). A bit of crunchy red onion adds bite that balances the flavors out.
We haven't even gone into texture, which might be the most unique part. Soft, gooey, silky, crispy, and crunchy all blend together in a symphony of sensations for the mouth. Simple to make and baked to gooey crispy perfection; I hope you can add this to your routine as well.

Cooking Tips: How to cook down liquids and sauces; and how to thicken them more if needed
Most liquids, broths, glazes, sauces, and bases can easily be cooked down to thicken up. This increases flavor, richness and consistency. Two easy methods include simmering to evaporate liquid, or using a thickening agent. More details and tips on this Bon Appétit article.
To thicken using evaporation. This is is best for glazes, non cream-based sauces and some marinates: Heat over stove at a strong simmer, usually medium-low heat. Be sure to keep open (no lid) so the water molecule can evaporate; leaving just the the thickened base remaining. Cook for desired time, the longer you cook the thicker it gets. Stir and scrape bottom occasionally to prevent sticking.
Using a thickening agent. This is best for creams, sauces, soups, custards and gelatins: Cook with added thickening powder in conjunction to heat to thicken even more. Common ingredients include flour, cornstarch, or gelatin. Just a small amount is needed during simmering.
---
Products used in this recipe:
Stainless Steel Measuring Cups and Spoons Set
Victorinox Fibrox 8-Inch Chef's Knife
Nonstick Jumbo Cookware with Glass Lid, 5-Quart
16×22-Inch Aluminum Sheet Pan
---
Recipe at-a-glance:
Flavor profiles: Savory, meaty, sweet, tangy, spice and a bit of pungent nuttiness from brie
Texture: Soft, gooey, silky, crispy, and crunchy
Dietary Options/Substitutions: Gluten free – use GF bread
Leave a comment below and star rating if you made this recipe or want to share your thoughts.
Are you following me
on
Pinterest
,
Instagram
,
Facebook
, and
Twitter
? Also,
sign up for our newsletter
to get all our recipes and cooking tips.
---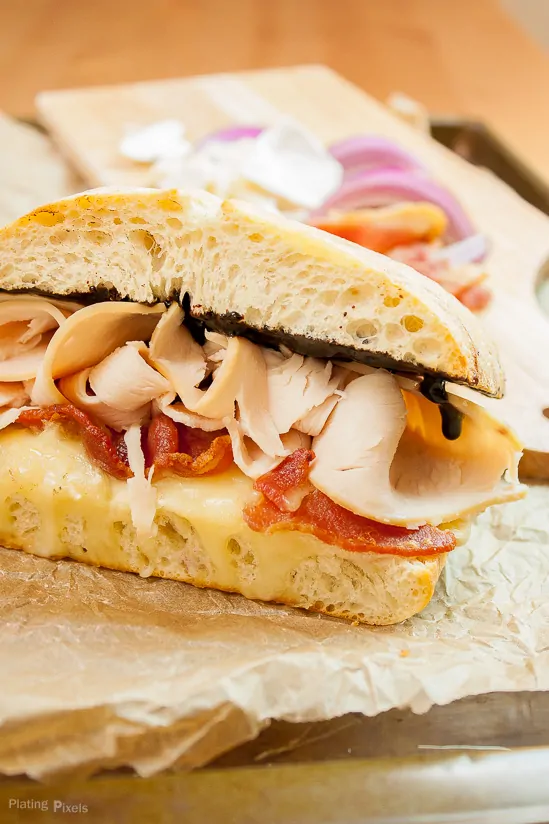 Print
Baked Brie Bacon and Turkey Melt with Honey Balsamic Glaze
Deli-style turkey melt. Melted baked brie, turkey and bacon create a perfect sandwich.
Author:
Matt Ivan
Did you know?
Servings and ingredient amounts can be adjusted on all my recipes. Click the green number above to change.
Ingredients
1/8

cup

balsamic vinegar

1

tablespoon

honey

4

slices

bacon

,

cooked

2

pieces

ciabatta bread

,

halved (about 2x4 inches each)

4 to 6

ounces

soft brie cheese

4

tablespoons

thinly sliced red onion

6

or more slices deli-style or leftover turkey breast
Instructions
Preheat oven to 425º F. Stir together balsamic vinegar and honey in a non-stick pan over medium heat. Bring to a boil, stirring often, then reduce heat to a low simmer. Cook about 10 minutes to thicken into a syrup; stir often to prevent burning. Remove and let cool.

Meanwhile: Cook bacon in a non-stick pan or skillet over medium high for 6–10 minutes to desired doneness; rotating halfway. Drain off excess fat.

To prepare sandwich: Evenly divide ingredients between both sandwiches. Spread brie, top with bacon, red onions, and sliced turkey. Place 2 prepared halves, and other halves, on a baking sheet and bake for 10–12 minutes to melt cheese and toast bread. Remove and spread with balsamic glaze. Enjoy your sandwich warm, gooey, crispy and toasty.
Nutrition Facts
Baked Brie Bacon and Turkey Melt with Honey Balsamic Glaze
Amount Per Serving
Calories 1769
Calories from Fat 1278
% Daily Value*
Fat 142g218%
Cholesterol 488mg163%
Sodium 3430mg149%
Potassium 870mg25%
Carbohydrates 17g6%
Protein 103g206%
Vitamin A 2675IU54%
Vitamin C 1.5mg2%
Calcium 832mg83%
Iron 2.8mg16%
* Percent Daily Values are based on a 2000 calorie diet.
Like this recipe?
Visit @platingpixels on Pinterest to discover more. Pin it with button below to save recipe for later.
Don't forget to leave a comment below and rate this recipe if you like it →