As 2014 comes to a close, I'd like to share some of our favorite recipes and highlights from our first year of food blogging at Plating Pixels. It's hard to imagine since my first recipe post on April 18, just over 7 months ago, that this blog would turn into what it is today.
There's still a long way to go. I have a lot planned to grow this blog, while providing meaningful value and content. Among some of the planned ideas, next year you will be seeing much more cooking tips, resources, guides and how-to's. I want Plating Pixels to become a complete recipe, kitchen and cooking resource for readers.
Out of about 60 recipes I've published since starting, I'm sharing the top 10 that have been the most popular, gotten the most publicity or that are the most special to me. I hope you enjoy these, and all the great content to come over the years. I'm so excited to grow this blog and where we can take Plating Pixels over the next year and beyond.
---
Plating Pixels Top 10 Best Recipes of 2014
---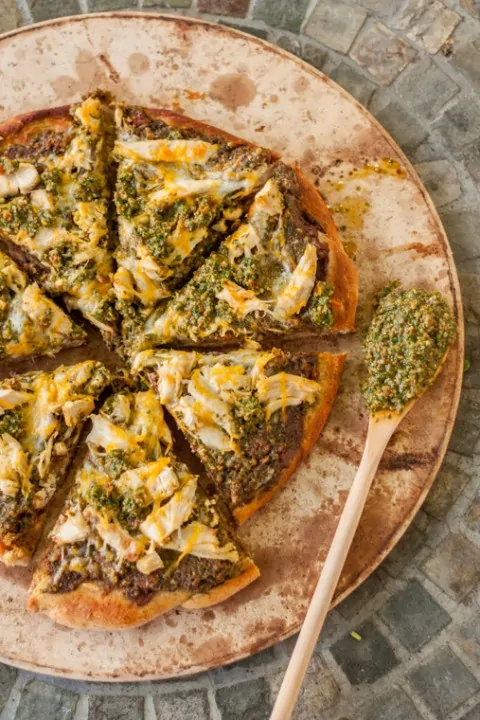 Avocado Pesto and Chicken Mexican Pizza
I created this recipe as a blogging promotion for Heart Made Blog and her new cookbook. Avocado pesto pairs wonderfully with beans and chicken. This is basically a burrito on a pesto pizza!
---
Apple Cider Cheesecake with Brown Butter Apple Compote
Featured on Udi's Gluten-Free website. Instant apple cider perfectly flavors a cheesecake. A walnut crust helps keep this recipe gluten-free.
---
Almond Tangerine Butter Cookies
Part of the Great Food Bloggers Cookie Swap and Cookies for Kids with Cancer benefit. Sweet and slightly tangy with a smooth citrus finish. Almond extract and tangerine zest. Cornmeal adds a slight crunch.
---
Campfire Style Nutella S'mores Pie
Featured on Buzzfeed in a recipe roundup. Mimics the beloved campfire classic with a graham cracker and chocolate crust, Nutella cream filling and perfectly toasted marshmallows on top.
---
Chocolate Pecan Cookies with Caramel Drops
The first recipe I posted on Plating Pixels. Pair rich, dark chocolate with a caramel center and you get a slightly sweet cookie with just a hint of savory saltiness.
---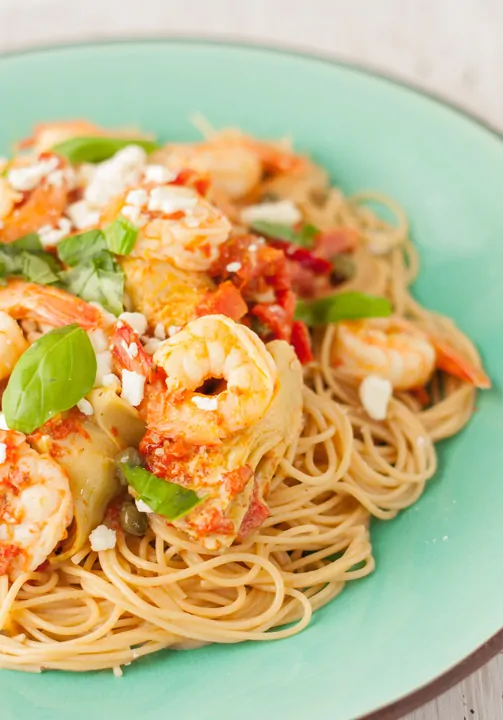 Creamy Shrimp Pasta with Artichokes and Roasted Red Peppers
One of the first recipes I photographed, and is still one of my favorites. A creamy sauce of whipping cream, capers and lemon zest rounds this recipe out with a buttery tang.
---
Lemon and Dill Barbecue Salmon Kabobs
This recipe has spread like wildfire on Pinterest, getting over 33,000 shares to date. Vinegar, lemon juice and zest add a nice zing to salmon. Dill works it magic by adding a sharp, pickled undertone.
---
Reese's Peanut Butter Cup Mini Cheesecake Cupcakes
Has been featured on numerous websites and recipe roundups. Rich, silky peanut butter cheesecake with chocolate ganache topping and Reese's cups on an Oreo cookie crust.
---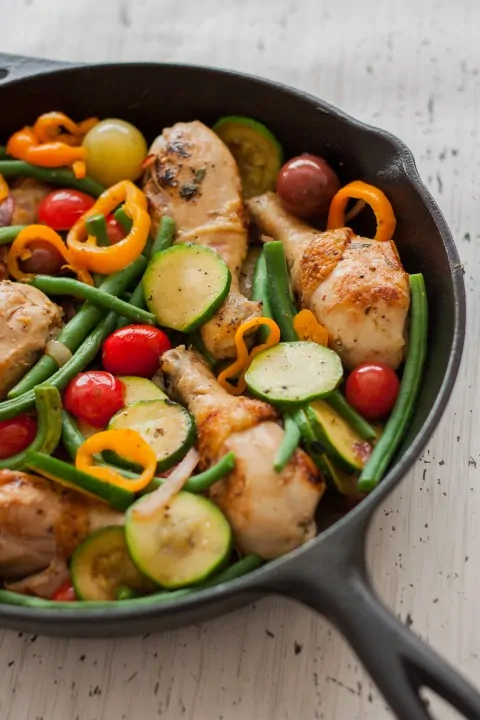 Rustic Herbed Skillet Chicken and Vegetables
The first recipe I posted with my new skillet. I love how the food photography came out as well. Flavorful, crisp chicken pairs lovingly with fresh vegetables and a rich broth based sauce in this skillet dish.
---
Sweet and Spicy Beer Barbecue Chicken
Featured as exclusive recipe of the day on Food Porn Daily. Beer barbecue chicken with sweetness and just the right amount of spicy flavor. Juicy, tender chicken that is beautifully coated with a rich, moist sauce.
---
Links to mentioned posts and roundups
http://www.buzzfeed.com/rachelysanders/fabulous-mallows
http://udisglutenfree.com/recipes/apple-cider-cheesecake-with-brown-butter-apple-compote/
http://heartmadeblog.com/messy-kitchens-unite/
http://foodporndaily.com/pictures/sweet-and-spicy-beer-barbecue-chicken/
http://www.momsandmunchkins.ca/2014/08/16/mini-cheesecakes/
http://www.loveandoliveoil.com/2014/12/2014-cookie-swap-recipe-roundup-1.html