36 Baked Boneless Skinless Chicken Breast Recipes
Baked boneless skinless chicken breast recipes have a reputation as "diet food" or even "boring", but it doesn't have to be that way. This roundup contains easy chicken recipes for dinner that are full of flavor.
Chicken lends itself to a variety of healthy and comforting recipes. Either simple and rustic or elaborate and tasty, it's sure to please the family or a crowd, which is why I put together my popular how to bake chicken breast recipe. You can have moist and tender baked chicken in no time with just a few simple to follow tips and tricks.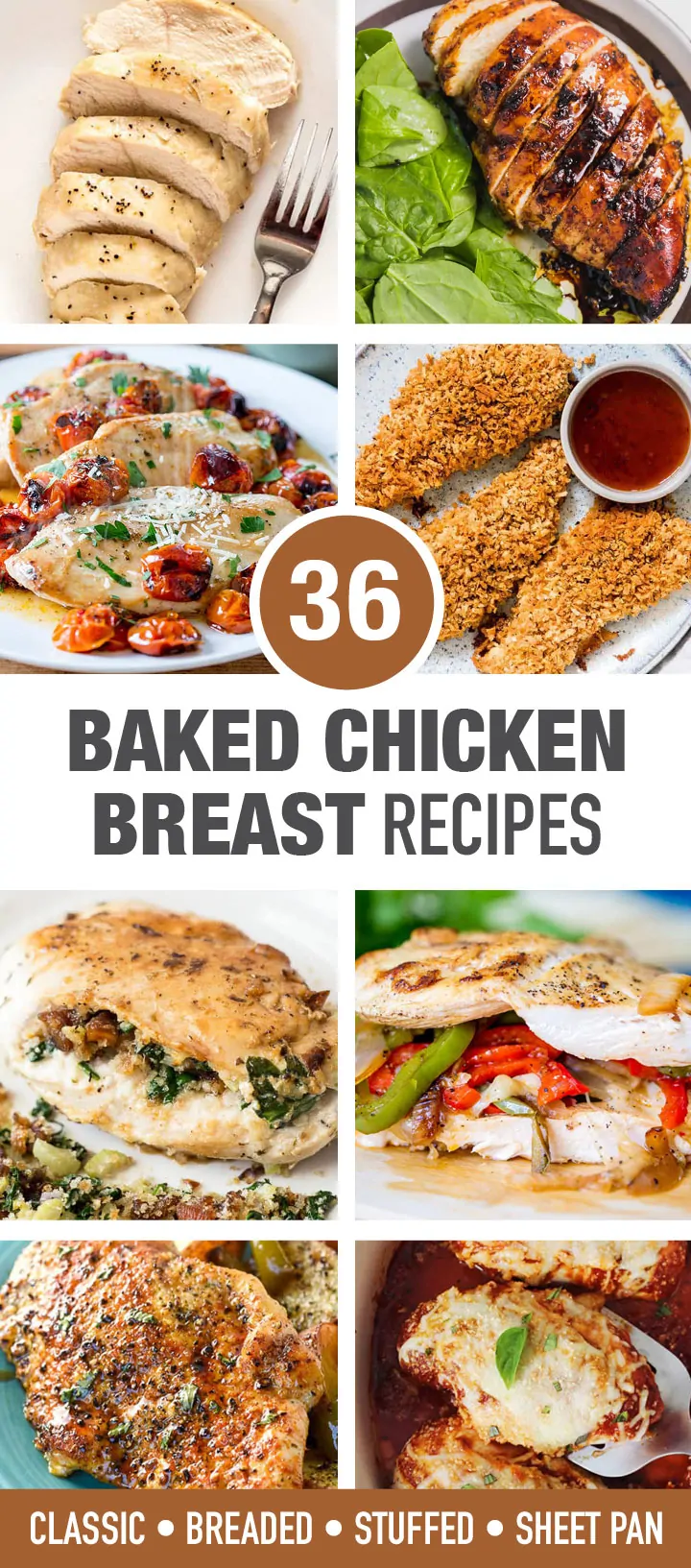 If you've been looking for more ways to bake boneless skinless chicken breast, then this is the roundup for you. It has a little bit of everything including classic baked chicken recipes, breaded and crispy baked chicken, stuffed chicken, and sheet pan chicken.
Since I turned 36 this year, I'm celebrating with 36 Baked Boneless Skinless Chicken Breast Recipes. Who knows, maybe I'll be able to make them all this year?
Looking for a particular baking method?
Use the links below to jump to the section:
Classic Boneless Skinless Chicken Breast Recipes
Speaking of classic flavor combinations, there are several baked chicken breast recipes that you simply must have in your recipe box. Start with these easy boneless skinless chicken breast recipes.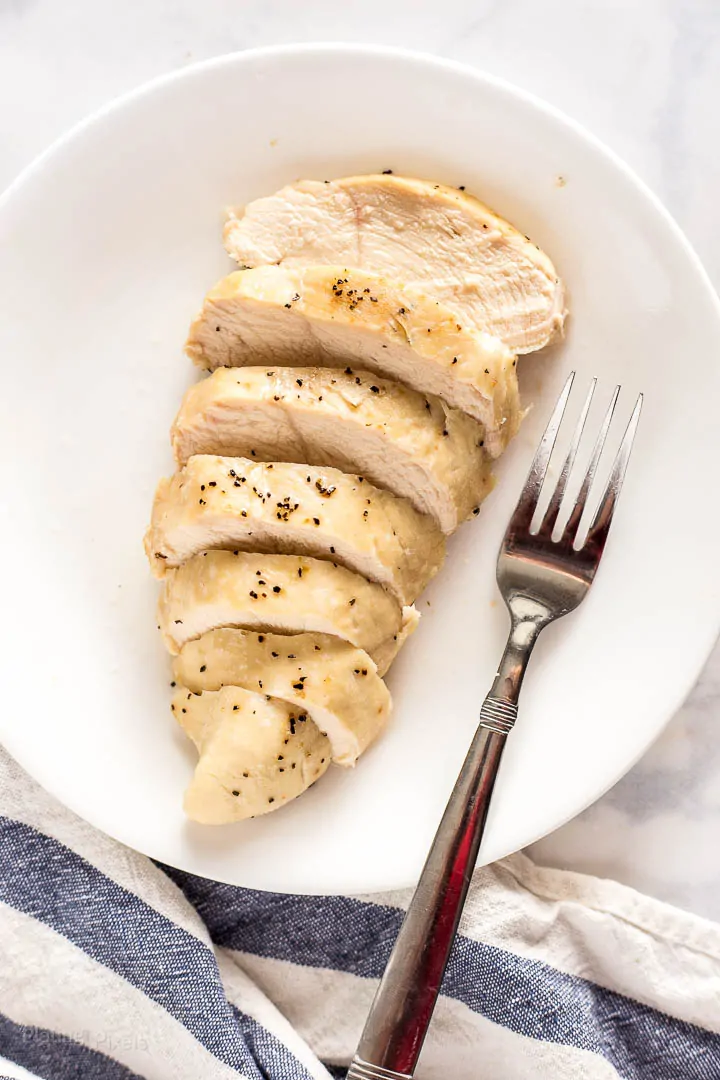 I wrote my baked chicken breast guide because I know that many struggle to bake the chicken appropriately so that it retains its flavor and moisture. If you follow my tips in that post, you'll never have overcooked, bland chicken breast for dinner again! There's even a recipe video to make easy baked chicken breast.
After you've learned how to bake boneless skinless chicken breast, an easy next step is to try different marinades. Carmy shares 5 easy chicken marinade recipes that are freezer-friendly, effortless to prepare, and totally delicious!
Speaking of marinades, Courtney's Sweets shares lots of tips on marinated chicken in her Chili Lime Chicken recipe. It makes a delicious chicken dinner recipe or use it to make chicken tacos!
This Mediterranean inspired Baked Chicken with Cherry Tomatoes from Sprinkles & Sprouts is packed with flavor and so simple to prepare. Cherry tomatoes in the oven roast into sweet flavor morsels. Plus it's ready in under 30 minutes.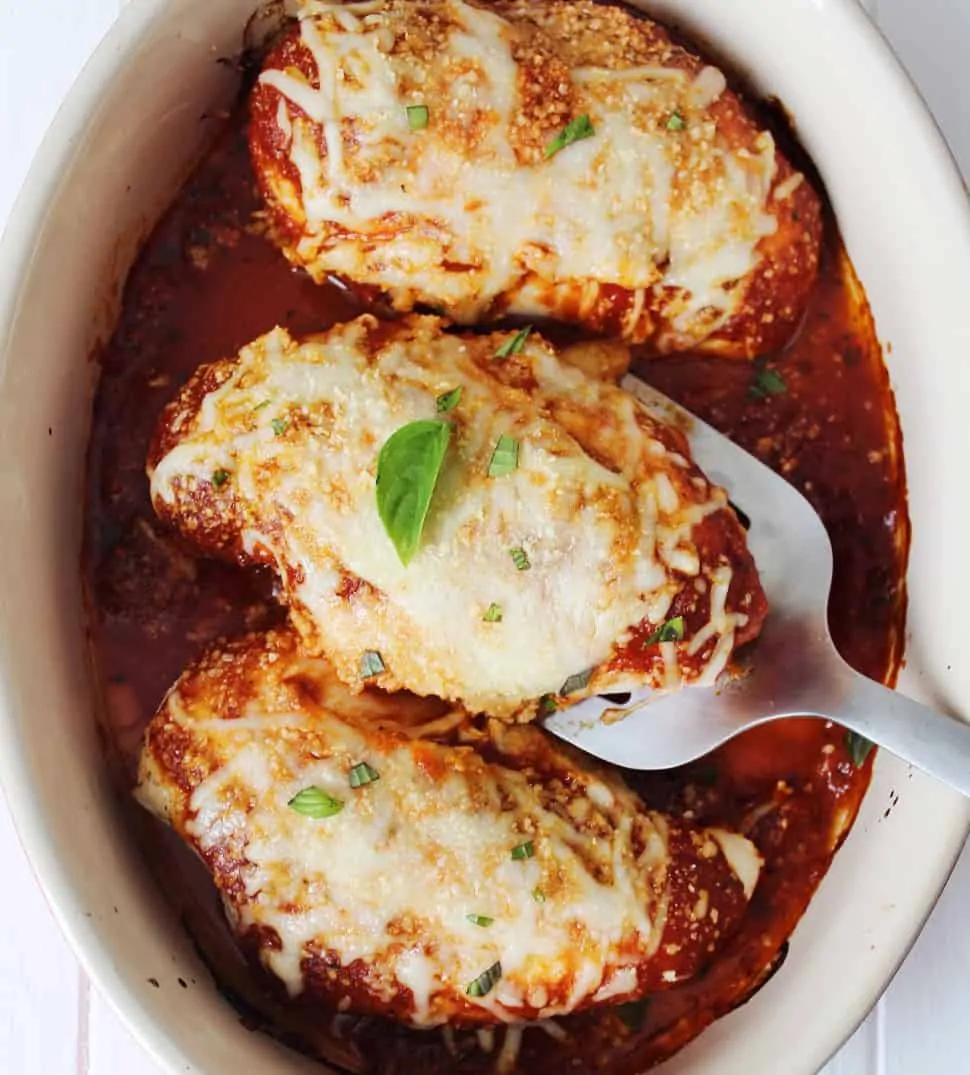 Keto Baked Parmesan Crusted Chicken from The Health Creative is topped with rich marinara sauce and melted cheese is a quick family dinner that's sure to please.
Easy Chicken Parmesan from Natalie's Health is a classic that is both fancy enough for a gathering and perfect for a weeknight dinner. It's got homemade tomato sauce and ooey-gooey mozzarella cheese. Who wouldn't love that?
This Baked Chicken Cordon Bleu from Basil and Bubbly is another must-have. It's healthier than the original but doesn't lack flavor and it can be made in one pan. Wonderful for weeknight meals.
Balsamic is a great pairing with boneless skinless chicken breast. It adds a bit a tang and sweetness. Learn how to make it, plus tips on flattening chicken for quicker baking with these Baked Balsamic Chicken Breasts from Cooking LSL.
Garlic Maple Dijon Chicken from The Honour System is one of those 'instant staples'. It's gluten-free, full of flavor, and balances sweet heat to perfection.
If you're looking for a simple to make classic, you can't go wrong with Pesto Chicken breasts. It doesn't get easier than this three-ingredient recipe from Julie Blanner. And there are only 5 minutes of hands-on time!
Cajun spices go great on almost any type of meat, especially chicken. This Cajun Spiced Oven Baked Chicken from Neil's Healthy Meals is an easy low cost lean and tasty quick healthy meal. It would make an excellent lunch or chicken dinner.
Another flavor combination to try is Cilantro Lime Chicken from Julie Blanner. This light and flavorful chicken is wonderful on its own or on tacos, nachos, salads and more!
What if you're just cooking for one? This Lemon And Garlic Chicken For One from One Dish Kitchen makes single serve chicken dinners easy. It's ready in less than 30 minutes and great served over rice or in a lettuce wrap for a low carb option.
Breaded Baked Chicken Breast Recipes
Crispy oven fried chicken is always a hit with kids and spouses. And it's another good basic recipe to have in your arsenal for weeknight meals.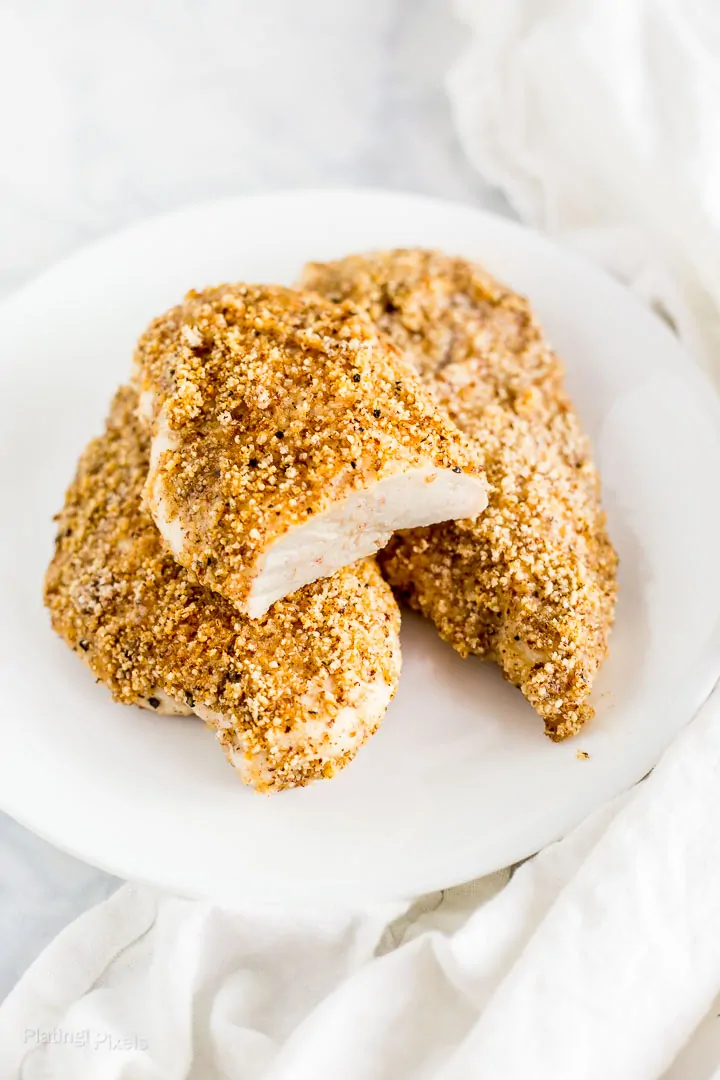 If you want to enjoy breaded chicken, but are on a keto diet, my Keto Breaded Chicken Breast recipe will surely satisfy. It uses almond meal, instead of bread crumbs. Plus it's breaded and baked in less than 30 minutes for an easy keto chicken dinner recipe…all with only 2 net carbs per serving.
Savory Nothings recommends you start with a dark pan with this Crispy Oven Fried Chicken, but she doesn't stop there. I loved her tips on how to freeze crispy oven fried chicken as well. Talk about a quick weeknight meal solution!
Basil and Bubbly suggests a surprising sandwich ingredient for keeping your chicken breast moist. I loved her version of oven "fried" chicken breast and her tips for making it perfect every time. If you've been looking for a crispy chicken version I recommend recipe.
When you think of oven-baked breaded chicken breast you might automatically think of bread crumbs, but Recipes from a Pantry's Parmesan Crusted Chicken Breast proves you don't have to stop there. I love her 20-minute recipe and her tips to make sure the chicken stays crispy on all sides.
Looking for an easy meal that's guaranteed to please? These Homemade Baked Chicken Nuggets from Whole New Mom fit the bill. Plus they are AIP, Dairy-Free, Gluten-Free, Grain-Free, Keto, Low-Carb, and Paleo.
Umami Girl teaches us that the key to the crispy coating is browning the panko (mixed with a little melted butter and parmesan) on its own before using it to coat the chicken in her Crispy Baked Chicken Tenders with Parmesan and Garlic recipe.
What's better than baked chicken tenders? Baked chicken tenders coated in cornflakes! These tenders from Natalie's Health are coated in sweet cornflakes for extra crunch, and served with homemade Honey Dijon Sauce.
It may not be your typical breading, but I had to include this Everything Bagel Baked Chicken recipe from Sandra's Easy Cooking. It's smothered in a homemade everything bagel seasoning and baked on a sheet pan. Bagels aren't part of my breakfast routine, but this creative recipe just may be.
Sheet Pan Chicken Breast Recipes
Whether a more traditional baked chicken or something closer to oven "fried", once you have the basics, you're ready for the next steps.
My advice would be to start with sheet pan chicken breast dinners. They are a simple and flavorful option for busy families. There is nothing easier than marinating chicken breasts in a variety of ways, tossing them with fresh vegetables and then throwing it in the oven. Many can be made in 20 to 30 minutes.
Spicy, crisp and smothered with Korean marinade, this baked Korean Chicken from Whisk Affair is amazing. Instead of takeout, you can make these easily at home in no time in the oven
If you're looking for a healthy "take out at home" option, Sheet Pan Chicken Teriyaki Meal Prep from Carmyy is perfect. It's healthier than anything you can get at your local Chinese restaurant and can be meal prepped ahead of time for easy meals throughout the week.
Marjorie from A Pinch of Healthy shares both tips (cut your chicken breast into strips for faster cooking) and a delicious sheet pan version of Easy Chicken Fajitas. It's a crowd pleaser and perfect for weeknight supper.
Simple ingredients and an easy marinade make Honey Balsamic Sheet Pan Chicken from Flavor Mosaic a wonderful next step.
Honey mustard chicken breast is a classic flavor combination and Sheet Pan Honey Mustard Chicken from Sizzling Eats is a delicious and delightful 30-minute version.
Stuffed Chicken Breast Recipes
When you're ready to take your chicken dinners to the next level and impress family and guests, you'll want to try these stuffed boneless skinless chicken breast recipes. Not only are they classic, but delicious. They make a wonderful weeknight meal, date night dinner for two, or as part of a simple celebration.
I've pulled together some delicious stuffed baked chicken breast dinners that might look complicated, but they are simple to make and I'm sure you'll want to add them to your meal rotation ASAP.
Just a few common ingredients create a classic stuffing flavor in my Apricot and Spinach Stuffed Baked Chicken Breasts. One bite and you'll be transported to family favorite meals of the past.
This gorgeous Prosciutto Wrapped Creamy Pesto Chicken Parcels are stuffed AND wrapped. It appears super fancy but is much easier than it looks. It's also baked in a skillet for a rustic, comforting chicken dinner.
Mix up your menu for Taco Tuesday with this Salsa Stuffed Sheet Pan Chicken from Hungry Hobby. It's all the flavors of Mexican food made in no time. It has a flavorful marinade, and it's the perfect big batch recipe for meal prepping.
This Easy Cheesy Baked Fajita Chicken from Sprinkles & Sprouts would make a great chicken dinner idea. The boneless chicken breasts are stuffed with fajita veggies and in the oven.
Cooking your stuffed chicken breasts evenly will be a breeze with the tips shared at Beyond the Chicken Coop. Her recipe for Zucchini and Ricotta Stuffed Chicken Breast is perfect for summer.
Looking for chicken breast dinner for two? Then try The Organic Kitchen's Spinach and Goat Cheese Stuffed Chicken. Serve it with asparagus for a healthy, complete chicken dinner. Plus she shares lots of step by step photos for easy stuffed chicken breasts.
Amazing easy baked chicken breast recipes almost always conjure up memories of family around the table on a Sunday. It's comforting, flavorful and classic. You can make it as simple or as elaborate as you like, and it's a wonderful spice up your weekly menu.
---
If you're looking for more chicken dinner ideas, view all chicken recipes on Plating Pixels.
---