---
Cooking at home is one of my most enjoyed activities, however sometimes it's a refreshing break to get out and enjoy food in the community, especially if it involves an insider look. Recently Olia and I had the unique experience of trying the Flavors of West Marin Food Tour. It's located in Point Reyes Station, which is slightly north of San Francisco.
The host, Elizabeth, takes you on a tour of some of the area's best known foodie spots. It includes a sample of food at each place as well as transportation from the initial meeting location.
Their about page sums it up best and the details on each part are below. I'll explain each in more detail as well as share photos.
Learn all about local history over fresh Bovine Bakery pastries
Taste all of the award-winning cheeses at the Cowgirl Creamery
Get an insiders look into Brickmaiden Breads
Visit the Bovine Bakery and try some delicious chai
Savor grass-fed burgers at Marin Sun Farms
Wander the fields of Table Top Farm and pick fresh fruits and vegetables
Enjoy a tour and sparkling honey wine tasting at Heidrun Meadery
Go behind-the-scenes at Hog Island Oyster Company and taste their delicious bivalves!
Start off by learning about Point Reyes Station, specifically the history, farming and agriculture; while trying a sampling of local baked goods and an handful of cheese types. Farming is a big deal in the area, with 4 cows to every one resident. In a town of 3,000 people there's almost 11,000 cows; many of them pasture raised on special nationally protected lands.
Right next door you get an inside look at a local bread company. It's a cozy single room with a state of the art oven, still fueled by a wood fire. We tried a bite of fresh baked bread then it was off to the bakery for a small shot of local chai tea.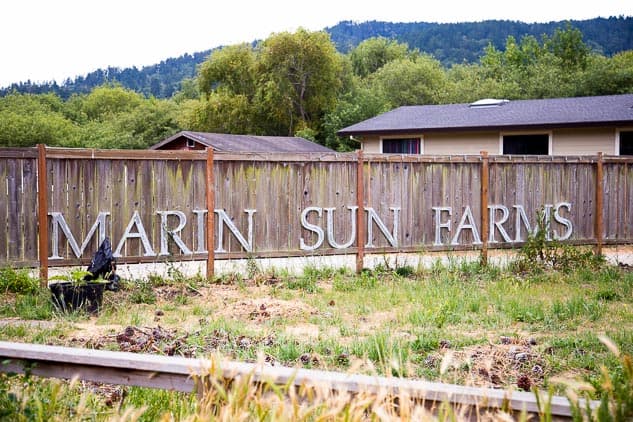 The next stop is Marin Sun Farms, which feature some of the area's best meats. All pastured raised and premium quality. We all tried a sampling from three burgers and well as some beef jerky. The highlight was buffalo milk gelato. It has three times the fat as cow's milk, creating a dense and creamy gelato. Plus there's a surprise flavor you'll have to try for yourself!
Next we stopped at tiny honor system farm. There was a few rows of unmanned crops where you buy what you want and leave money in a slot. We got to try a few raspberries right of the vine for a fresh taste of summer.
One of the highlights for me was the Heidrun Meadery and bee farm. It was one of the most unique aspects of the day, as you actually get a behind-the-scenes tour from the owners. The mead tasting was a hit as well; you can't go wrong if there's alcohol sampling. They feature naturally sparkling mead made mostly from champagne yeast and honey. Honey made from various pollens is use for each type of mead, which greatly changes the flavor profile.
Another landmark of the area is oysters. The final stop was at Hog Island Oyster company for a look at their oyster tanks, as well as trying a few raw and grilled oysters. These are literally grown at that spot and picked daily; you can't get any fresher than this.
If you're in the Bay Area and want a custom tour of the area then check out Food and Farm Tours. It's super fun with a focus more on the information that Elizabeth provides. You get a small sampling at each place and won't leave feeling too full, but with insider knowledge from a local on the food and farming scene.
Disclaimer: I was provided a pair of complimentary tickets. The photos and opinions in this post are my own.