How to Steam Artichokes: The Fail-Proof Way
Artichokes are a wonderful, healthy side to any dish. They're extremely easy to cook and require almost no hands-on time. It's important to know how to steam artichokes properly.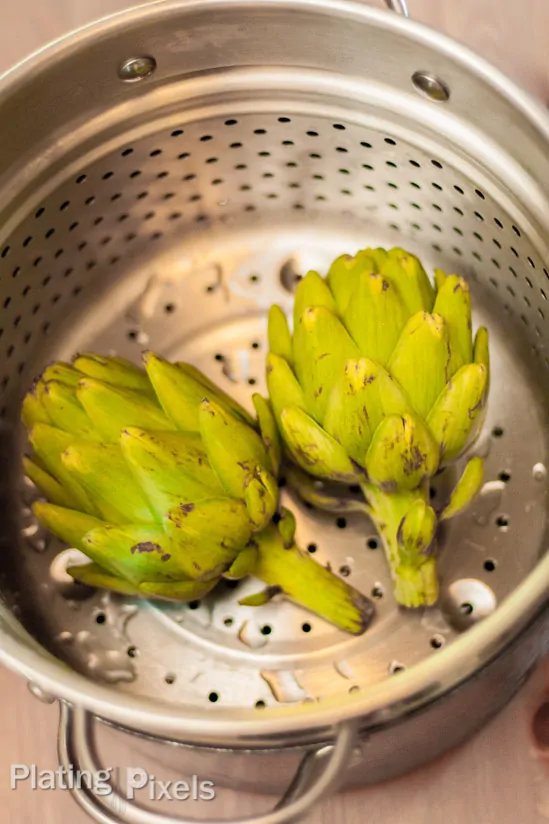 Steaming is the preferred method for cooking. Unlike microwaving, they keep the artichokes moist and tender. You can boil as well, however a lot of valuable nutrients seep out into the water as it cooks. Steaming is the best way to keep nutrients in tact.
Speaking of nutrients, 1 medium artichoke (about 128 grams) has the following:
60 calories, 0.2 g of fat, 474 mg of potassium, 13 grams of carbs, 7 grams of fiber, 1.3 grams of sugar, and 4.2 grams of protein. That's a whole lot of good nutrients compared to the low calorie and fat content. To keep these healthier I suggest avoiding butter or mayonnaise for dipping, and instead use olive oil; or none at all.
How to Steam Artichokes:
Follow these easy steps for perfect steamed artichokes. You'll need a large pot and a steam basket.
Add about 2 inches of water to the bottom of large pot. Insert steam basket into pot and make sure water is at least ½ -inch below the bottom of the steamer. If there's too much water pour some out. Place over stove on high heat.
Rinse artichokes under water to clean, then place into steam basket. As soon as water boils, reduce heat to low and cover. Simmer for 25–35 minutes until tender. The larger the artichoke, the longer it takes to steam.
Artichoke leaves should easily pull off and the meat on leaves should be tender. Remove from pot with tongs and serve. Optional, dip leaves in olive oil or butter, seasoned with salt, pepper and/or garlic powder.
---
Products used in this dish:
Stainless Steel Vegetable Steamer
Cuisinart Chef's Classic 12-Quart Pot
12-Inch Stainless-Steel Locking Tongs
---
Check out How to Stock Your Kitchen (A complete pantry essentials list) guide to learn how to stock your pantry.

Want to cook with artichokes? Check out our…