The Best Bacon Cheddar Stuffed Burger Recipe
The Best Bacon Cheddar Stuffed Burger. How to make a perfect juicy burger. Stuffed with flavor filled center of cheddar cheese, onion, jalapeño, and bacon; then topped with avocado.
I'm ready to let you in on a little secret…I know how to make The Best Bacon Cheddar Stuffed Burger. This is my beloved recipe that has been developed, tried and tested for fail-proof, juicy stuffed burgers. This may just be the best burger you have ever had. – Within this post you'll learn tips on how to pick the best meat and ingredients for the most flavorful burger. You'll also learn how to prep and cook it for perfect juicy burgers. –
I've fine tuned this recipe over many variations and ended up with this final version; where every single ingredient plays a critical role in the flavor, structure and juiciness of this stuffed burger. For one, you might be asking why stuffed burgers? Not only is it a clean way to eat and present them, but it's a joyous surprise for any guest who blissfully bites into one thinking it's a regular old burger. Stuffing burgers creates an open pocket inside and less surface area around it. It doesn't need to cook as long to get the meat towards the center to just medium (or however you like your burger cooked).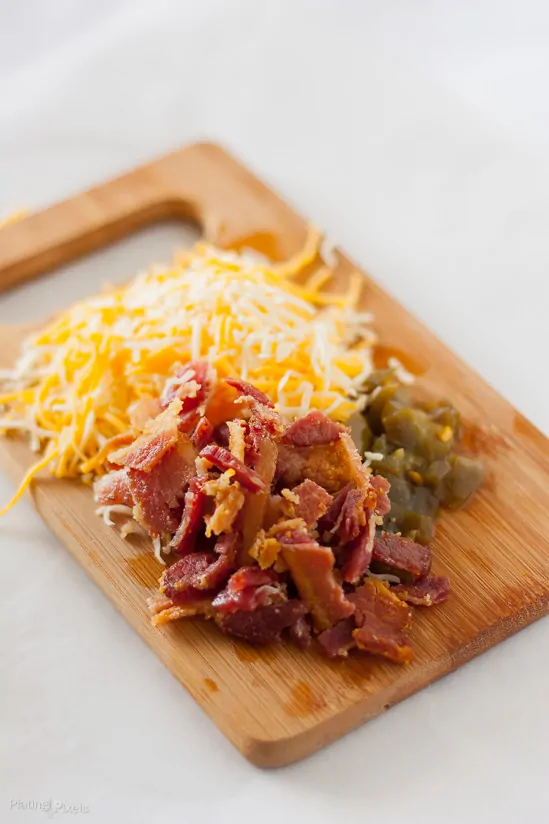 As far as ingredients; let me break them down for your real quick:
The egg helps hold the meat together; the burger can be a bit fragile with the thin layers and a filled center.
Onions add flavor, but more importantly a bit of moisture and liquid. Be sure to mince them small so the meat will hold together.
Worcestershire sauce is that all important savory umami flavor. This gives your burgers a delightful taste.
Salt and pepper are not actually flavors, but flavor enhancers. They are still very important in this recipe.
Cheese adds flavor; extra cheese in the meat adds more moisture.
Bacon. I don't need to say anything more about bacon right?
Jalapeños give it a slight spice and a bit of tang. This rounds out all the flavors.
Avocado adds creaminess and a lovely flavor pairing to the beef and bacon.
As you can see this recipe has been engineered to be the perfect best stuffed burger. You may also notice no condiments. I highly recommend you DO NOT ADD mayo, mustard, or ketchup. Those will just throw off the flavor. Read the cooking tips below for more details about getting juicy burgers.
Cooking Tips: How to get the juiciest burgers
Start with high-quality, lean meat. You'd think that beef with a higher fat content would be juicier, but I found this to be contrary. Most of the fat burns off, and the burger dries out. Plus the fat and juice that drips off flairs up. This makes flames that unevenly cook your burger quicker.
Mix a bit of cheese into the burger meat (don't forget stuffed inside for added flavor too). This makes the meat less dense, allowing heat to evenly heat through. The bits of cheese melt and adds juiciness as well.
Make sure to cook burger at the right heat. Too high and it will burn the outside, and not cook the inside correctly. Too little heat and you won't get those nice sear marks on the outside. Be sure to let the meat sit and get close to room temperature (at least 20 minutes), but not too long where it could attract bacteria. If you cook meat while it's cold (fridge temp), the inside will take longer to cook.
And of course, stuff the center of your burgers with a pocket of heavenly flavor (detailed above in the post). It's easiest if you have a burger press to shape the burger. View graphic above to see how to do this.
If your want more burgers, check out my Ultimate Honey BBQ Bacon Burger recipe.
---
Products used in this recipe:
Stainless Steel Measuring Cups and Spoons Set
3-Piece Mixing Bowl Set, Blue/Green/Yellow
Nonstick Jumbo Cookware with Glass Lid, 5-Quart
Stuffed Burger Set Essential
Char-Broil 3-Burner Gas Grill
---
Are you following me on Pinterest, Facebook, Twitter and Instagram? Also sign up for our newsletter to get all our recipes and cooking tips.

Recipe at-a-glance:
Difficulty: Medium
Flavor profiles: Ridiculously delicious! The best burger you've ever had. Technically speaking: rich, smoky, savory, a bit spicy, and bacon! Bacon is a flavor profile right?
Texture: Moist, tender, juicy, gooey and just a bit of crunch.
Dietary Options/Substitutions: GF – You can wrap in lettuce or omit bun. If you don't eat beef you can use ground turkey.
Leave a comment below and star rating if you made this recipe or want to share your thoughts.
Are you following me
on
Pinterest
,
Instagram
,
Facebook
, and
Twitter
? Also,
sign up for our newsletter
to get all our recipes and cooking tips.
---
Print
The Best Bacon Cheddar Stuffed Burger
The Best Bacon Cheddar Stuffed Burger. How to make a perfect juicy burger. Stuffed with flavor filled center of cheddar cheese, onion, jalapeño, and bacon.
Author:
Matt Ivan
Did you know?
Servings and ingredient amounts can be adjusted on all my recipes. Click the green number above to change.
Ingredients
1

pound

extra lean ground beef

,

good quality, 90% or higher

1

egg

1

tablespoon

Worcestershire sauce

1

teaspoon

salt

½

teaspoon

ground black pepper

2

tablespoons

minced onion

½

cup

shredded cheddar cheese

,

divided

2-3

bacon strips

4

pickled jalapeño slices

,

chopped

2

hamburger buns

,

sourdough, ciabatta or gluten-free

1

avocado
Instructions
In a medium bowl, mix together ground beef, egg, Worcestershire sauce, onion, salt, pepper and ¼ cup cheddar cheese. You may need to use your hand to get in evenly combined. Let stand (see cooking tips section above for reasons).

Heat a medium skillet or non-stick pan to medium-high heat. Add bacon strips, cook for 3–4 minutes without touching. Rotate and cook other side 2–3 minutes, or until slightly crispy. Remove from heat, drain off excess oil, and break bacon into chunks.

Divide meat mixture in half for each burger. Press about 2/3 off one half into the

burger press

(it should be almost full). Press top mold to create an open center. You may need to practice a couple times to get the right amount (see animated photo above for help). Fill one burger with 1/8 cup cheese, and half of cooked bacon and jalapeño. Top with more meat and use burger press to seal top down. Remove and repeat steps for second burger.

Preheat barbecue (I used gas) to medium-high. Lightly grease grill slats with oil; this helps prevent sticking. Place patties onto grill, close, and cook first side for 4–6 minutes. It should release from the grill and have grill marks. Flip and cook other side for 4–6 minutes until cooked to desire doneness. With those times it should be just over medium. If you're used to using your fingers to test firmness, the stuffed center makes it more squishy, so be sure to not overcook.

Grill hamburger buns if desired. Mash avocado in a bowl. Place burger patties in buns, top with avocado and enjoy the best juiciest burger.
Nutrition Facts
The Best Bacon Cheddar Stuffed Burger
Amount Per Serving
Calories 847
Calories from Fat 423
% Daily Value*
Fat 47g72%
Cholesterol 266mg89%
Sodium 1970mg86%
Potassium 1496mg43%
Carbohydrates 33g11%
Protein 67g134%
Vitamin A 550IU11%
Vitamin C 12.5mg15%
Calcium 332mg33%
Iron 8.5mg47%
* Percent Daily Values are based on a 2000 calorie diet.
Like this recipe?
Visit @platingpixels on Pinterest to discover more. Pin it with button below to save recipe for later.
Don't forget to leave a comment below and rate this recipe if you like it →

Are you excited to try this a what's your favorite type of burger?