Moist and fluffy Homemade Cinnamon Rolls recipe. Homemade dough filled with cinnamon sugar and topped with vanilla buttercream frosting and walnuts.
Guest Post: Recipe, writing and photography by Oana Iliescu from Pastry Workshop. Oana is a pastry chef whose passion for dessert pushed her towards writing a food blog that aims to create desserts with character, desserts that stand out, but are made from scratch, in her home kitchen.
Apart from recipes, Oana shares on her blog information about the most common ingredients and techniques so if you want to delve into the world of desserts, visit Pastry Workshop or follow her on Pinterest or Instagram.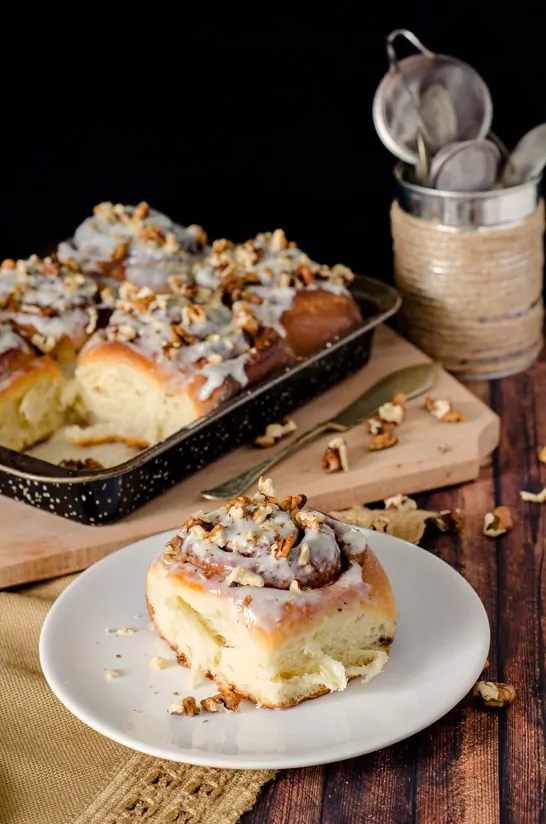 If there's one thing I don't like when it comes to desserts and baking, that's kneading and working with dough. But I learnt that conquering your fears and pushing over your limits is the best way to become a better baker or pastry chef and a better person altogether, therefore once in a while I challenge myself to knead the most amazing dough and make the best baked goodie I can commit myself to.

It's actually quite therapeutic to see how a simple mix of liquids, flour and yeast can come together into an elastic dough as gluten starts to develop, then rise and puff up only to be baked later on into fluffy, delicious goodies that flood your house with the most amazing scent ever!
This time it was the turn of cinnamon rolls – these fragrant baked goodies are a family favorite, we love them to bits! And for good reason! Imagine a fluffy roll studded with a mix of brown sugar and cinnamon, all topped with the creamiest, richest glaze ever, plus crunchy, rich walnuts for texture. A glass of warm milk next to it and you're in the heaven of desserts and comfort food. It's pure joy from the very first moment of mixing the dough to tasting it and it might actually make me love working with dough after all!
---
Leave a comment below and star rating if you made this recipe or want to share your thoughts.
Are you following me
on
Pinterest
,
Instagram
,
Facebook
, and
Twitter
? Also,
sign up for our newsletter
to get all our recipes and cooking tips.
---
Print
Homemade Cinnamon Rolls
Moist and fluffy Homemade Cinnamon Rolls recipe.
Author:
Matt Ivan
Did you know?
Servings and ingredient amounts can be adjusted on all my recipes. Click the green number above to change.
Ingredients
Dough
1

teaspoon

active dry yeast

2/3

cups

150ml whole milk, warm

¼

cup

50g sour cream

1

teaspoon

vanilla extract

3

eggs

¼

cup

50g granulated sugar

3 2/3

cups

550g all-purpose flour, sifted

½

teaspoon

salt

1/3

cup

70g butter, melted
Filling
½

cup

100g brown sugar,

¼

cup

50g white sugar

1 ½

teaspoons

cinnamon powder

1/3

cup

70g butter, softened
Topping
1

cup

100g powdered sugar, sifted

½

of 8 oz package (100g) cream cheese

¼

cup

50g butter, softened

1

teaspoon

vanilla extract

1

cup

100g walnuts, chopped
Instructions
Dough and filling
Start by mixing the yeast with warm milk. Allow to proof for 10 minutes then stir in ¼ cup (50g) of sugar, the sour cream, eggs and vanilla and mix well.

Add the flour then start kneading the dough, adding the melted butter gradually, while kneading. This can easily be done in a stand mixer or by hand. Knead for 5–10 minutes then place aside and allow the dough to start rising for 15 minutes. After 15 minutes, knead the dough again for 5 minutes then allow it to rise on room temperature, covered with plastic wrap, for 1 hour. You don't need to knead the dough the second time, but I found that this yields an easier to work with dough that has an improved texture after baking as well.

In the meantime, mix the brown sugar, white sugar and cinnamon in a bowl.

Place the dough on a floured working surface and roll it into a 11x15 inch (40x30cm) rectangle.

Spread the softened butter over the dough then top with the sugar and cinnamon mixture, pressing it slightly into the dough to make sure it sticks.

Roll the dough on its length as tight as possible then cut slices of dough and place them with the cut facing up in a baking tray lined with parchment paper, allowing enough room to rise once again.

Allow the rolls to rise for 30–40 minutes on room temperature.

Pre-heat your oven to 350F – 180C. When it's hot enough, place the rolls in the oven and bake for 30–35 minutes or until fragrant, golden brown and slightly crusty. The best way to check for doneness is to insert a toothpick in the thickest part of the rolls. If the toothpick comes out without traces of raw dough, the rolls are done. If you can still see traces of dough, bake a few more minutes then check again.

When done, place the pan aside to cool to room temperature.
Topping
Mix the cream cheese, sugar, vanilla and butter in a bowl until smooth and creamy.

Spread the glaze over each cinnamon roll and top with chopped walnuts.

Serve right away or store in an airtight container to keep them soft and fresh all the time.
Nutrition Facts
Homemade Cinnamon Rolls
Amount Per Serving
Calories 946
Calories from Fat 414
% Daily Value*
Fat 46g71%
Cholesterol 164mg55%
Sodium 501mg22%
Potassium 290mg8%
Carbohydrates 119g40%
Protein 15g30%
Vitamin A 1090IU22%
Vitamin C 0.2mg0%
Calcium 120mg12%
Iron 4.8mg27%
* Percent Daily Values are based on a 2000 calorie diet.
Like this recipe?
Visit @platingpixels on Pinterest to discover more. Pin it with button below to save recipe for later.
Don't forget to leave a comment below and rate this recipe if you like it →