Spring is in full effect, and summer and Memorial Day is just around the corner. That means plenty of grilling and outdoor entertaining. Grilling meats (and vegetables) adds unique flavor and texture, plus is an easy way to entertain guests. With the success of my How to Bake Chicken Breast that are Moist and Tender it's only fitting to share my tips on How to Grill Chicken Breast that are Moist and Tender. If you have a patio, backyard or access to a grill, this guide is for you.
This post is sponsored by Everywhere Agency on behalf of Char-Broil; however, all thoughts and opinions expressed are my own.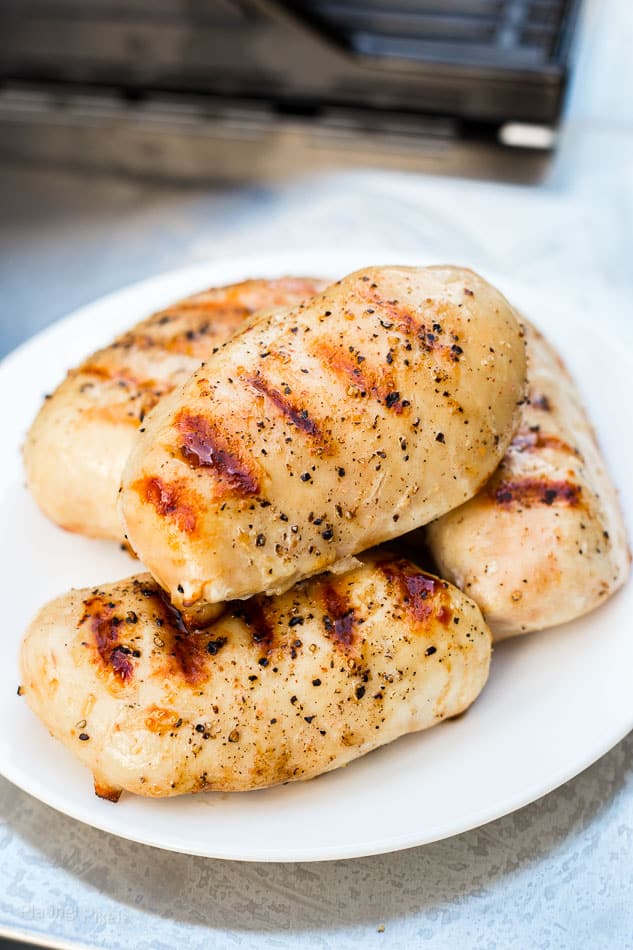 The steps are incredibly simple, but without this knowledge it's easy to overcook, dry out or not get proper sear marks. Once you know the steps on how to grill moist chicken breasts, it will be second nature and something to look forward to in warmer months. This is even with boneless, skinless chicken breasts. I'll also share my thoughts on Char-Broil's Commercial Series TRU-Infrared 4-Burner Gas Grill, which makes grilling moist chicken and meats even easier.
How to Grill Chicken Breast that are Moist and Tender
Don't grill chicken cold: As with most meats, you want to bring close to room temperature before grilling or cooking. This allows more even cooking throughout. If you grill directly from the fridge, the outside will cook much faster and you risk chairing before the center reaches correct temperature. Allow to sit about 30 minutes at room temperature before cooking. Not much longer or you'll increase risk of food contamination.
Pre-season: Generously coat both sides of chicken with light olive oil and sprinkle with salt, pepper and desired seasonings. The olive oil helps to hold in moisture while cooking, increases those nice golden sear marks and helps seasonings stick better to the meat.
Preheat the grill: Preheat your TRU-Infrared or gas grill on medium-high until internal the temp reaches 350-400 degrees F. The grill needs to be hot when you add chicken, allowing it to sear and cook evenly.
How to grill the chicken: Lightly grease cooking grates to prevent sticking. Immediately add chicken with at least 2-3 inches between pieces. Close lid and cook 8-9 minutes. Reduce heat to medium if necessary to keep temperature around 350 F. Once bottoms have golden brown sear marks rotate chicken and close lid. Cook 8-10 minutes, or until seared and internal temperature reaches 165 F.
Serving: Rest before serving: Allow chicken to rest 5-10 minutes before cutting and serving. This will keep more juices and help with moist and tender chicken.
You'll have plenty of room for grilling chicken, other meats and veggies on Char-Broil's Commercial Series TRU-Infrared Gas Grill. Six large chicken breasts barely took a third of the grill, leaving plenty of room to spare.
The tips above almost guarantee moist chicken breasts, but TRU-Infrared will take it even further. It has special plates with small holes below the main grilling grates that regulate heat, creating an even temperature to control cooking. No more hot or cold spots, allowing the entire grilling surface to be used. With plenty of cooking space and 4 burners, you can grill multiple items and control the temperature in each area.
The infrared grates also prevent flare-ups. You get that smoky grilled flavor, but cooking is safer and there's less risk of burning food. The even heat distribution means more control over you grilling, allowing up to 50% juicier food.
With these few simple tips on how to grill chicken breasts, you'll be a grilling pro this summer.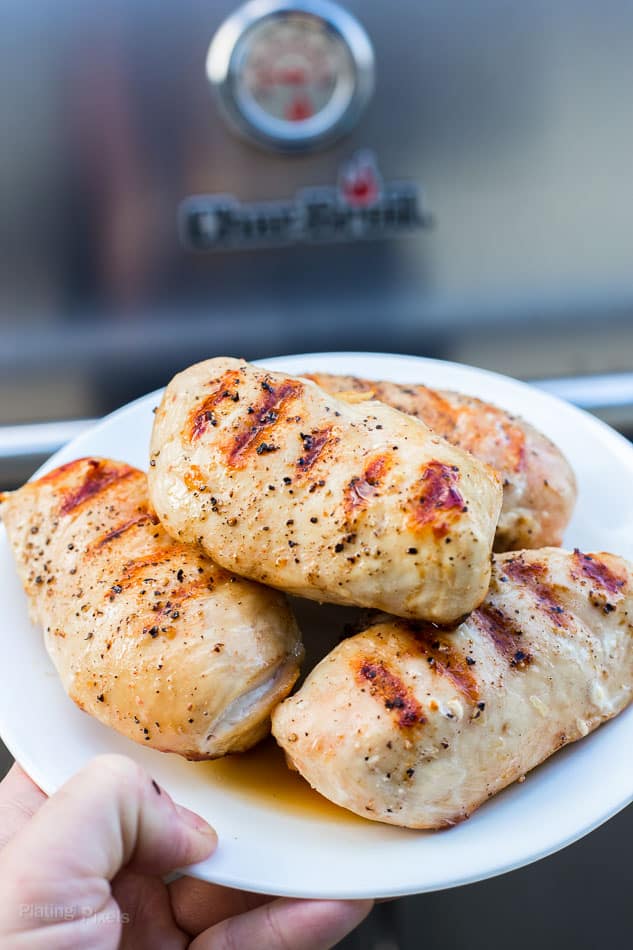 ---
Are you following me on Pinterest, Facebook, Twitter and Instagram? Also sign up for our newsletter to get all our recipes and cooking tips.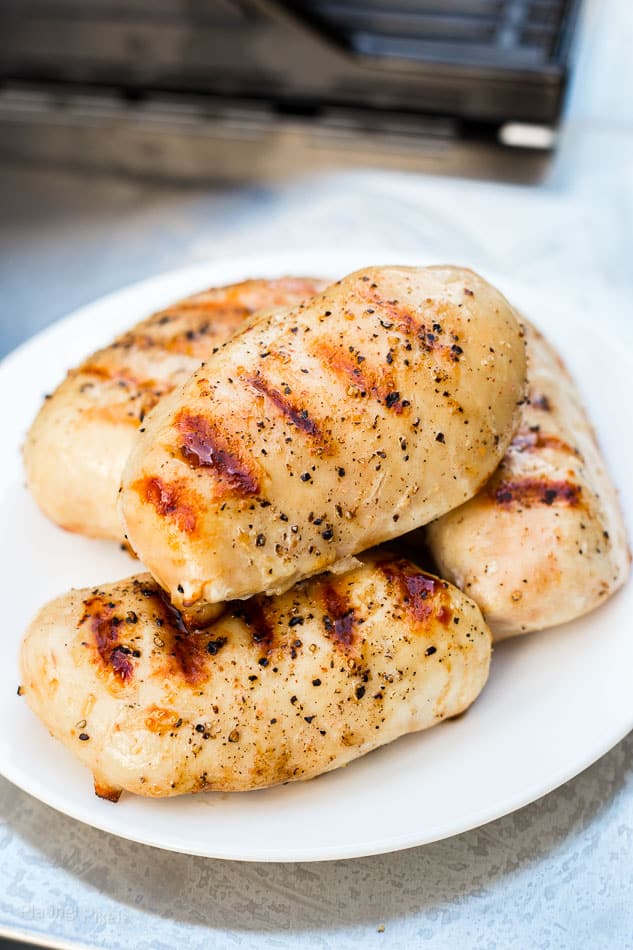 How to Grill Chicken Breast that are Moist and Tender
Perfect grilled chicken every time. Learn with this easy summer grilling recipe.
Ingredients
6

chicken breasts

boneless, skinless (about 3 pounds)

3

tablespoons

olive oil

light

Salt

to taste

Pepper or desired spices

to taste
Instructions
Coat both sides of chicken with olive oil and sprinkle with salt, pepper or desired seasonings.

Let chicken sit at room temperature for about 30 minutes.

Preheat gas grill before cooking to medium/medium-high heat, or 350-400 F. Lightly grease grill surface and add chicken. Close lid and cook 8 minutes, or until bottoms are browned with sear marks. Rotate chicken, close lid and cook 8-10 minutes more, or until internal temperature reaches 165 F.

Remove chicken from grill and let rest 5 minutes before serving. See tips in post above more details on each step.
Nutrition Facts
How to Grill Chicken Breast that are Moist and Tender
Amount Per Serving
Calories 230
* Percent Daily Values are based on a 2000 calorie diet.
---
If you make this recipe, take a photo and post it on Instagram and tag @platingpixels or hashtag #platingpixels
Share or Pin this recipe if you like it. Thanks! Let me know your thoughts in the comments below.