Cherry limeade bars are punchy with lime flavor, but the cherry adds a sweet hit and a lovely pink color. Sweet and sour summery perfection!
Guest Post: Recipe and photography by Mary Haymaker of Chattavore. When she's not cooking, writing, taking pictures of food, or eating (or trying to figure out how to button her jeans), Mary works as a behavior analyst in Chattanooga, Tennessee. Her blog focus is on modern Southern food with as few processed ingredients as possible and Chattanooga-area restaurants.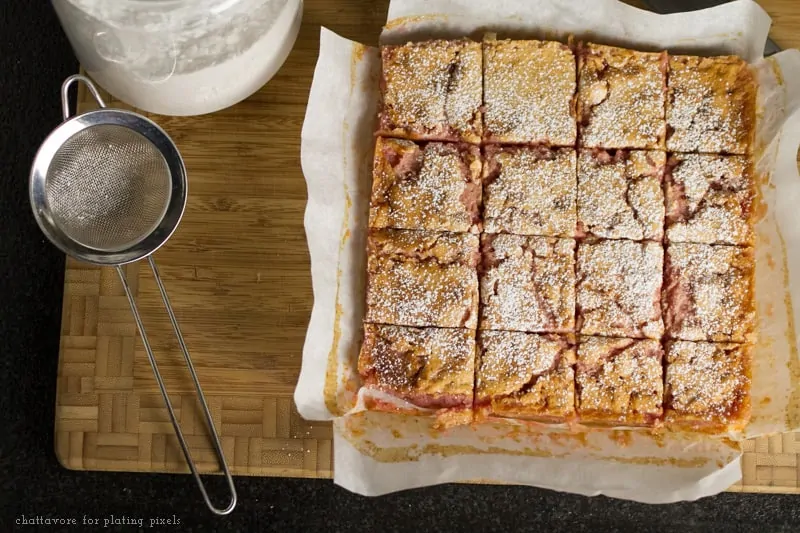 Maybe it's the tropical association, but there's no flavor profile that more accurately defines "summer" for me across the board than citrus. Since I was a kid, I have loved desserts that showcase citrus flavors, whether lemon, lime, or orange (grapefruit was never my jam).
I am sure the employees at my little hometown ice cream shop thought I was the oddest child when I ordered lemon custard ice cream instead of Superman (multi-colored vanilla flavored ice cream that everyone else was obsessed with and I never understood.
Lemon bars? Yes. Please. And thank you. Key lime pie? Yaaaaasssss. My grandmother would regularly make it for me. Orange cake from a box even. So good.

Our neighbors have a very fertile cherry tree in their yard and it makes me so jealous to watch them go out and gather gigantic colanders full of them every day for weeks at a time.
Lucky for us, they are willing to share, granted I am willing to make a batch of cherry jam and give them half the jars. Happily I oblige.
It occurred to me that I needed to merge the two. Citrus and cherry…how should I do it? Then I thought of Sonic Cherry Limeades…I mean, who doesn't love to slurp down a Route 44 from time to time?
What a perfect flavor combination. Why not make them into cookies-cool, creamy cherry lime bars? Sounded like a perfect plan to me.
Turns out it absolutely was a perfect plan. This recipe is so simple…everything comes together in the work bowl of your food processor, and you can make the filling while the crust bakes. There's no juicing involved either…you slice up the lime and toss it in the food processor too!
With lime zest and juice, these cherry limeade bars are punchy with lime flavor, but the cherry adds a sweet hit and a lovely pink color. Sweet and sour summery perfection!
---
Recipe at-a-glance:
Flavor profiles: Tart, sweet, citrusy, buttery
Texture: Gooey filling, firm yet tender crust
Leave a comment below and star rating if you made this recipe or want to share your thoughts.
Are you following me
on
Pinterest
,
Instagram
,
Facebook
, and
Twitter
? Also,
sign up for our newsletter
to get all our recipes and cooking tips.
---
Print
Cherry Limeade Bars
Cherry Lime Bars. Tangy citrus and sweet cherry in the dessert bar recipe.
Author:
Matt Ivan
Did you know?
Servings and ingredient amounts can be adjusted on all my recipes. Click the green number above to change.
Ingredients
For the crust
1

cup

all-purpose flour

¼

cup

granulated sugar

¼

teaspoon

table salt

8

tablespoons

unsalted butter

,

cut into chunks, plus extra for greasing the pan
For the filling
1

medium lime

,

scrubbed

1

cup

sweet cherries

,

pitted

1 1/3

cups

granulated sugar

8

tablespoons

butter

,

cut into chunks

4

large eggs

2 ½

tablespoons

cornstarch

¼

teaspoon

table salt

Powdered sugar

,

for serving (optional)
Instructions
Place a rack in the center of the oven and preheat the oven to 350 degrees. Line an 8-inch square baking dish with two 8-inch wide strips of parchment paper facing opposite directions to make a "sling". Butter the parchment paper.

Place the crust ingredients into a food processor and pulse until the mixture resembles coarse crumbs and sticks together when you press between your fingers. Scrape into the prepared pan and use your fingers or the flat bottom of a dry measuring cup to press the crust into the pan and smooth it out. Bake for 20 minutes, until lightly browned. Leave the oven on when you remove the pan.

While the crust is baking, wash the food processor. Zest the lime and place the zest into the food processor. Cut the pith (white under the lime zest) away from the lime and discard. Cut the lime flesh into thin slices and place into the food processor.

Place the cherries and the sugar into the food processor with the lime flesh and zest. Process on high until smooth, about two minutes, scraping down the sides of the bowl as needed. Add the butter and purée until smooth, scraping down the sides of the bowl.

Add the eggs, the cornstarch, and the salt to the lime-cherry mixture and pulse, scraping down the sides, until well-blended. Pour into the crust and bake for 35-40 minutes, until center jiggles just slightly when the pan is jostled. Remove from the oven and cool completely. Cut into 16 squares and sprinkle with powdered sugar before serving if desired.
Nutrition Facts
Cherry Limeade Bars
Amount Per Serving
Calories 232
Calories from Fat 108
% Daily Value*
Fat 12g18%
Cholesterol 71mg24%
Sodium 139mg6%
Potassium 46mg1%
Carbohydrates 28g9%
Protein 2g4%
Vitamin A 415IU8%
Vitamin C 1.8mg2%
Calcium 13mg1%
Iron 0.6mg3%
* Percent Daily Values are based on a 2000 calorie diet.
Like this recipe?
Visit @platingpixels on Pinterest to discover more. Pin it with button below to save recipe for later.
Don't forget to leave a comment below and rate this recipe if you like it →
(Adapted from The Smitten Kitchen Cookbook by Deb Perelman)