How to Caramelize Onions: An Ultimate Guide on Caramelized Onions
With this in-depth post you'll learn how to caramelize onions and the science behind the process. You'll learn the easy way, with detailed step-by-step photos and instructions, for guaranteed perfect caramelized onions.

The Basics of Caramelized Onions
Caramelized onions can be an essential cooking ingredient. Slowly cooking onions creates chemical reactions that bring out a sweet and roasted flavor. The bitter bite is removed, and you'll have a sweet and flavorful onion base that livens up any recipe.
I always semi-caramelize onions for any dish. This involves cooking for 5–7 minutes at a relatively high heat; stirring often to prevent burning. It's just enough time to bring out flavor and reduce pungency. If you want to take this further and learn how to fully caramelize onions, this guide will do just that.
Recipes often call for caramelized onions, however don't always explain how to properly do this. Learning how to caramelize onions is easy, but takes time. The good news is you don't need to watch them closely at such a low heat. You can start them and work on other things, or go to the next step in your recipe. Just check and stir occasionally.
The Science Behind Caramelized Onions and What Makes Them Sweet
Sweating: There are many chemical reactions at work when caramelizing onions. When cooking onions the internal moisture begins to steam; a process know as sweating. The liquid cells in the onion burst and breaks down the structure of the onion. Adding salt draws out more moisture. This is why onions soften as they cook. Onions reduce by roughly half, and actually start to deteriorate, when cooked longer to a caramelized state. My Steak Bruschetta with Goat Cheese and Tomato Jam recipe uses caramelized onions and roasted cherry tomatoes to create an easy savory jam.
Creation of new molecules: A series of complex chemical reactions take place when onions caramelize. Heating causes the water and sugar molecules to separate. As they cook, these dehydrated sugar molecule form together to create new molecules. Eventually sweet tasting disulfides and trisulfides form. This is the same reactions that happens when you cook sugar to form caramel. The post from the Kitchn explains the bitter to sweet process in more detail.
Maillard reaction creates browning: This is another reaction that happens during slow cooking for long periods of time, or cooking quickly with high heat. Any time you grill meat or toast bread in a toaster, you're seeing the Maillard reaction in effect. Essentially amino acids (part of protein) react with sugars, like glucose and fructose, to create new compounds. These eventually create new flavors, leading to a rich, roasted taste. This process repeats itself until new compounds know as melanoidin pigments are formed. These molecules are what creates the brown color (or grilled appearance) on produce and meats. Food with high sugar (or glucose) content, like fruits, brown easily as well.
---
How to Caramelize Onions
Basic knowledge and time are all that's need to perfectly caramelize onions. First peel and dice onions into roughly ½-inch pieces. You can also cut them into strips if you prefer.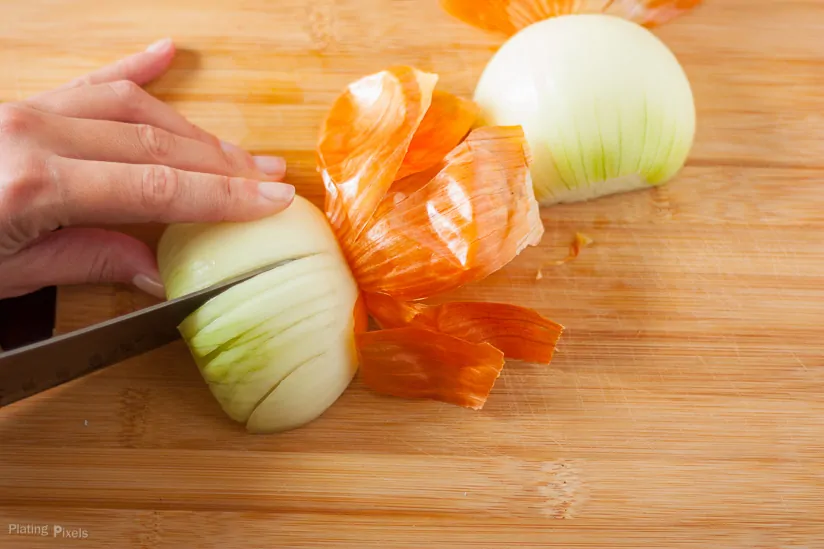 Heat olive oil in a large pan or skillet to medium heat. Add onions and salt. Cook for 5–7 minutes, stirring often, then reduce heat to low.
We start with a higher heat to speed up the process, then cook over low heat (if we only cook on low it can take 40-45 minutes to caramelize). Continue to cook on low for at least 20–25 minutes; stirring occasionally to prevent burning or sticking. You'll see the onions start to shrink and turn translucent.
They'll eventually turn golden brown. You may need to add another tablespoon of oil to prevent sticking.
The onions will go from golden brown to a rich, dark brown (but not black). They should have shrunk by about half and may even start to break up.
At this stage the onions are done and caramelized. Remove from heat and use in your recipe or as a topping.
You can cook extras and store in the freezer for later use. This saves you time as some recipes only call for a small amount. Caramelize a large amount of onions at once, then freeze in separate portions in small bags. Defrost what you need in the fridge the night before.
[icegram campaigns="4696″]
---
Recipes and posts on Plating Pixels teach you the science and how-to behind cooking.
You'll find quality recipes and learn about cooking at the same time. Each recipe has a specific 'cooking tips' section that explains part of the recipe or gives you tips that you can apply to other recipes.
My in-depth recipe guide on How to Make the Best Bacon and Cheddar Stuffed Burger explains how to pick perfect meat and ingredients for juicy burgers. You'll also learn how to perfectly assemble and grill it.
My guide on How to Bake Chicken Breast that are Moist and Tender explains a simple way to ensure moist boneless chicken breast, even in the oven.
---
---
Leave a comment below and star rating if you made this recipe or want to share your thoughts.
Are you following me
on
Pinterest
,
Instagram
,
Facebook
, and
Twitter
? Also,
sign up for our newsletter
to get all our recipes and cooking tips.
---
Print
How to Caramelize Onions
Easy detailed step-by-step photos and instructions for perfect caramelized onions.
Author:
Matt Ivan
Did you know?
Servings and ingredient amounts can be adjusted on all my recipes. Click the green number above to change.
Ingredients
2

tablespoons

olive oil

,

plus extra

3-4

large white or yellow onions

½

teaspoon

salt
Instructions
Dice onions into roughly ½-inch pieces.

Heat olive oil in a large pan or skillet to medium heat. Add onions and salt, cook 4–5 minutes, stirring often.

Reduce heat to low and continue to cook; stirring occasionally. Cook for at least 20–25 minutes. You may need to add more oil to prevent from sticking. Onions are done when they are browned (or caramelized) and softened. See photos above for details and step-by-step instructions.
Nutrition Facts
How to Caramelize Onions
Amount Per Serving
Calories 189
Calories from Fat 126
% Daily Value*
Fat 14g22%
Cholesterol 0mg0%
Sodium 588mg26%
Potassium 240mg7%
Carbohydrates 15g5%
Protein 1g2%
Vitamin C 12.2mg15%
Calcium 38mg4%
Iron 0.3mg2%
* Percent Daily Values are based on a 2000 calorie diet.
Like this recipe?
Visit @platingpixels on Pinterest to discover more. Pin it with button below to save recipe for later.
Don't forget to leave a comment below and rate this recipe if you like it →
Some scientific details in this post are from Cooks Illustrated: The Science of Good Cooking. Print.
Share or Pin this post if you like it.
Have you made caramelized onions? What types of recipes do you use them for?