Easy Saucy Grilled Buffalo Wings
Easy Saucy Grilled Buffalo Wings are a unique summer BBQ recipe. Tender party wings with savory dry rub, grilled, then tossed in buttery buffalo sauce.
This shop has been compensated by Collective Bias, Inc. and its advertiser to create these Saucy Grilled Buffalo Wings. All opinions are mine alone. #MakeYourSummer #MADEFORDOERS #CollectiveBias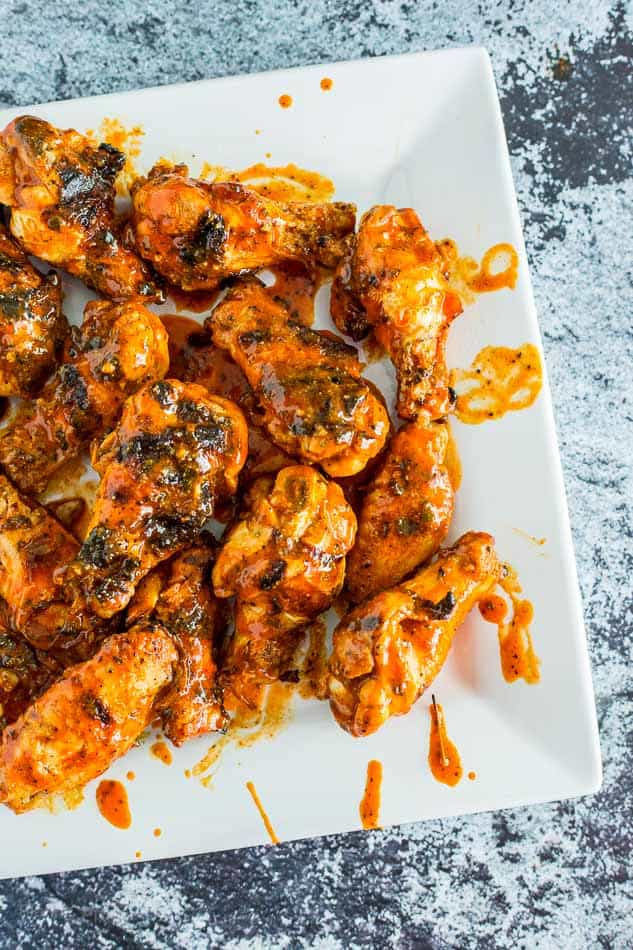 It's time bring on the grilled food with BBQ season in full effect. I've been putting my gas grill to good use lately and this is one of the best ways to enjoy warmer weather. This recipe combines a couple of my favorite things, grilled food and wings, into one unique summer recipe. These Easy Saucy Grilled Buffalo Wings are finger-licking good, and you'll have to because they are quite messy…in a good way.
Buffalo wings are traditionally fried or baked in the oven, but grilling adds extra depth of flavor and still provides crisp skin with tender meat. These are your basic wings, coated in buffalo sauce, but with a few hacks to make them easy and extra flavorful.

Tips for the Best Grilled Buffalo Wings
Marinade them ahead of time in buttermilk and a bit of buffalo sauce: The acids in the buttermilk help tenderize and break down the proteins in the meat. You'll end up with juicer chicken wings.
Grill on high heat then reduce to medium: Starting with higher heat will create a nice sear and prevent wings from sticking to grill grates. Finishing with a lower, longer time cooks centers without burning.
Coat with buffalo sauce at end: This prevents flair ups and burning on the grill. Once cooked, simply toss with sauce and serve.
How to Keep a Gas Grill Clean
It's important to keep your grill clean for even cooking and sanitary reasons. The best way to clean grates is to set burners on high for about 10 minutes after cooking. This will burn off any residual food bits. Turn off heat then clean grates with grill brush.
I like to keep the outside of my grill spotless as well. For this I recommend VIVA® Big Roll Paper Towels. Messes are no match for these towels. With thick, cotton-like texture, they're perfect for wiping down the outside of your grill. Even saucy recipes like these Grilled Buffalo Wings clean up easy.
Of course eating these Saucy Grilled Buffalo Wings are going to be a mess as well. Kleenex® Wet Wipes Gentle Clean are made for your hands and face. These unique wipes are made for adults, are thick and soft, and made without harsh chemicals. Get more unique grilling inspiration, and enter the #MakeYourSummer Sweepstakes, beginning 6/11/18!
These Easy Saucy Grilled Buffalo Wings are marinated, then get a savory dry rub, are grilled and finished off with a buttery buffalo sauce. Even with all these delicious steps, these are super simple and great for any summer day or BBQ party.
---
Are you following me on Pinterest, Facebook, Twitter and Instagram? Also sign up for our newsletter to get all our recipes and cooking tips.
More grilled chicken recipes you may like:
Easy Saucy Grilled Buffalo Wings
Easy Saucy Grilled Buffalo Wings are a unique summer BBQ recipe. Tender grilled chicken party wings tossed with a homemade buttery buffalo sauce.
Marinating
2
hours
30
minutes
Ingredients
30

chicken party wings

skin on (about 4 pounds)

3

cups

buttermilk

1 ¼

cups

buffalo wing sauce

divided

1

tablespoon

garlic powder

1

tablespoon

dried oregano

1

teaspoon

salt

1

teaspoon

black pepper

1

teaspoon

cayenne pepper

¼

cup

butter

1

tablespoon

worcestershire sauce

4

cloves

minced garlic
Instructions
Place chicken wings, buttermilk and ¼ cup buffalo sauce in a large resealable plastic bag. Place in dish or bowl and marinate in fridge for 2 to 8 hours. Drain wings and pat dry, then place in a clean plastic bag.

In a small bowl, stir together garlic powder, oregano, salt, pepper and cayenne pepper. Add to wings and toss to evenly coat. Let sit at room temperature for about 30 minutes.

Preheat gas grill to medium-high heat, about 450° F. Place wings on grill at least 2-inches apart, close lid and reduce heat to medium. Cook 5-8 minutes or until bottoms have sear marks. Rotate and cook 5-10 minutes longer, until internal temp reaches 165°. Remove from grill and lightly tent with foil.

Place 1-cup buffalo sauce, butter, worcestershire sauce and garlic in a small saucepan over medium heat. Cook 5 minutes or until butter is melted, stirring occasionally. In a large bowl, toss grilled wings and buffalo sauce to coat, then serve.
Recipe adapted from Better Homes and Gardens: Grilling Secrets. Print, 2014.
---
Look for Kleenex® Wet Wipes Gentle Clean in the facial tissue aisle of your local Kroger or Foods Co grocery store.
If you make this recipe, take a photo and post it on Instagram and tag @platingpixels or hashtag #platingpixels.
Share or Pin this recipe if you like it. Thanks! Let me know your thoughts in the comments below.