Easy Oven Baked Honey BBQ Chicken Drumsticks
Learn how to make grilled chicken indoors with these Easy Oven Baked Honey BBQ Chicken Drumsticks. Smothered with sweet and smoky thick barbecue sauce. Tender oven baked chicken.
Within this post you'll learn how to make an easy Oven Baked Honey BBQ Chicken Drumsticks; grilled chicken indoors. Plus you'll learn why it's better (and safer) not to rinse your chicken before cooking.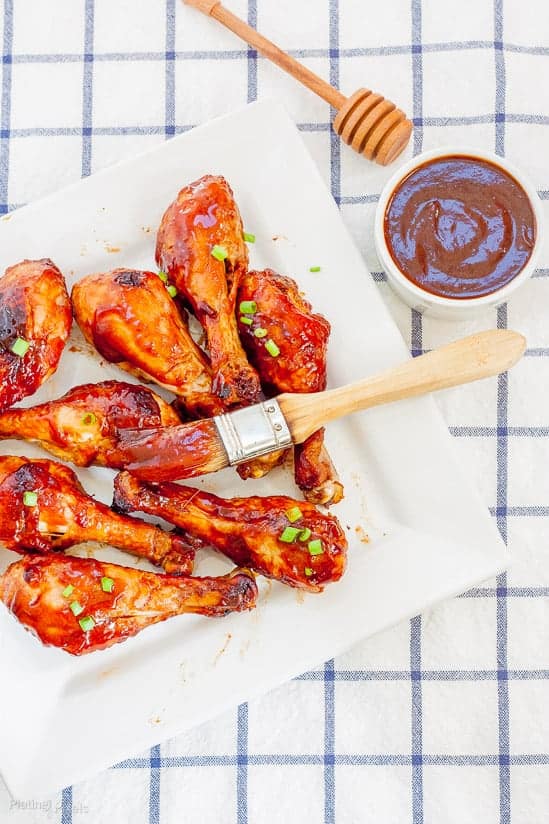 You walk out your back door to a lush green space full of fresh grass and tall trees. Before that a patio with glass tables and umbrellas to keep you cool on a beautiful Summer day. To your left is a year-round heated saltwater pool and hot tub. Not only is this my dream back yard, but we had the good fortune to move into an apartment with this very setup.
I literally feel like I'm on vacation each time I step out my door. Only minor (but major for a food blogger) setback is no barbecue to use and rules against storing one. Smack dab in the middle of Summer and no grilling to be had. Honey BBQ Chicken Drumsticks had almost become a distant dream.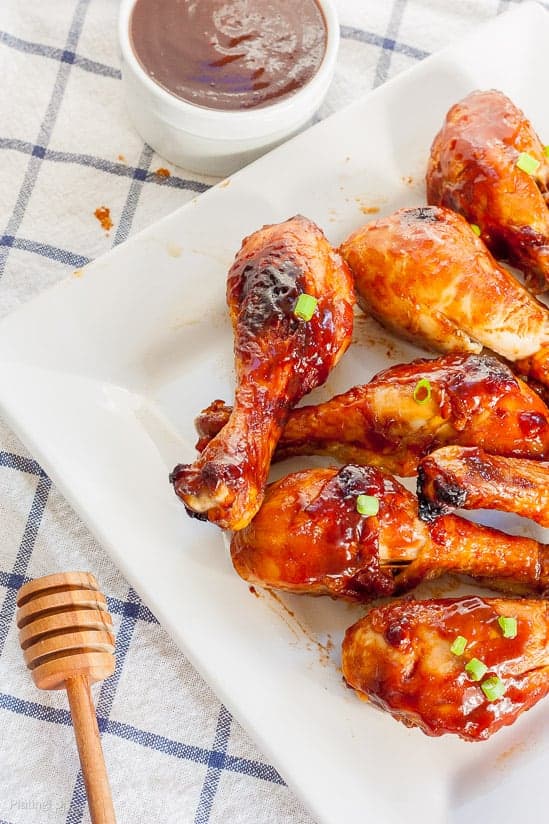 You may have noticed my recent grilling recipes, including this Parsley Tangerine Marinated Grilled Chicken, or my in-depth recipe guide on How to Make the Perfect Bacon Cheddar Stuffed Burger. Those were a backlog of recipes and photographs. Luckily I have foodie friends who came prepared with an ingenious small portable gas grill, and we can enjoy our beautiful Summer setting.
If you're in a similar situation, without a grill, then these Easy Oven Baked Honey BBQ Chicken Drumsticks will brighten up your day. Not only can you enjoy easy barbecue chicken legs, but from the comfort of you AC controlled home, and year-round.
These may be the easiest oven baked BBQ drumsticks you've ever had. Only a few ingredients and short prep time is needed. To keep things simple, use your favorite barbecue sauce. I recommend one (non-sponsored) in the recipe. Add a little honey for sweetness to the sauce.
Salt and pepper to the chicken legs brings out flavor, and that's it; easy oven baked BBQ chicken drumsticks. These drumsticks are so moist and juicy, you'll be licking your fingers until the last bite.
Cooking Tips: Why you shouldn't rinse chicken before cooking
You may have been told to rinse your chicken before cooking, or that's what your family always did growing up. To be honest, I've done that till recently. There are sound reasons not to; it's unnecessary and spreads bacteria. Chicken has already been cleaned and washed before packing. Rinsing spreads germs and bacteria in your kitchen sink.
The safe temp for chicken is 165º F. As soon as it reaches that, your chicken is safe of any bacteria and is perfectly cooked. No washing needed.
[sociallocker][/sociallocker]
---
Products used in this recipe:
Stainless Steel Measuring Cups and Spoons Set
3-Piece Mixing Bowl Set, Blue/Green/Yellow
Silicone Basting & Pastry Brush
16×22-Inch Aluminum Sheet Pan
---
Recipe at-a-glance:
Difficulty: Medium
Flavor profiles: Meaty, roasted, and slightly sweet. Umami from tomato-based barbecue sauce.
Texture: Tender, moist and a thick, finger-licking sauce coating.
Dietary Options/Substitutions: Be sure your barbecue sauce is gluten-free for dietary restrictions.
Are you following me on Pinterest, Facebook, Twitter and Instagram? Also sign up for our newsletter to get all our recipes and cooking tips.
Easy Oven Baked Honey BBQ Chicken Drumsticks
Easy Oven Baked Honey BBQ Chicken Drumsticks. Smothered with sweet and smoky thick barbecue sauce.
Ingredients
3

–4 pound chicken drumsticks

legs, skin on (12–15 pieces)

Salt and pepper

2

cups

of your favorite barbecue sauce

I used KC Masterpiece Private Stock Original BBQ

2

tablespoons

honey
Instructions
If chicken drumsticks are frozen, defrost in fridge the night before. Preheat oven to 375º F. Pat chicken dry with paper towels to remove excess moisture. Do not rinse before; see cooking tips section above for details. Place on a large foil or parchment lined baking pan. Lightly sprinkle both sides with salt and pepper.

Mix together barbecue sauce and honey in a small bowl. Use brush to generously coat both side of drumsticks with sauce; you'll use about 2/3 of the sauce.

Bake for 25 minutes. Rotate drumsticks and generously coat tops with rest of sauce. Bake 20–25 minutes more, or until chicken reaches safe internal temp of 165º F. Remove and let cool slightly before serving.
 If you make this recipe, take a photo and post it on Instagram and tag @platingpixels or hashtag #platingpixels
Share or Pin this recipe if you like it. Thanks! Let me know your thoughts in the comments below.
Do you enjoy grilling outdoors? What's your favorite food to grill?