Salted Butterscotch No Churn Ice Cream
Hassle free Butterscotch No Churn Ice Cream. Butterscotch chips, whole milk, egg yolk, raspberry preserves, pecans and whipped cream make a creamy, dreamy ice cream.
Within this post you'll make perfect, creamy butterscotch no churn ice cream, without an ice cream maker. Plus you'll the secret behind how no churn ice cream works!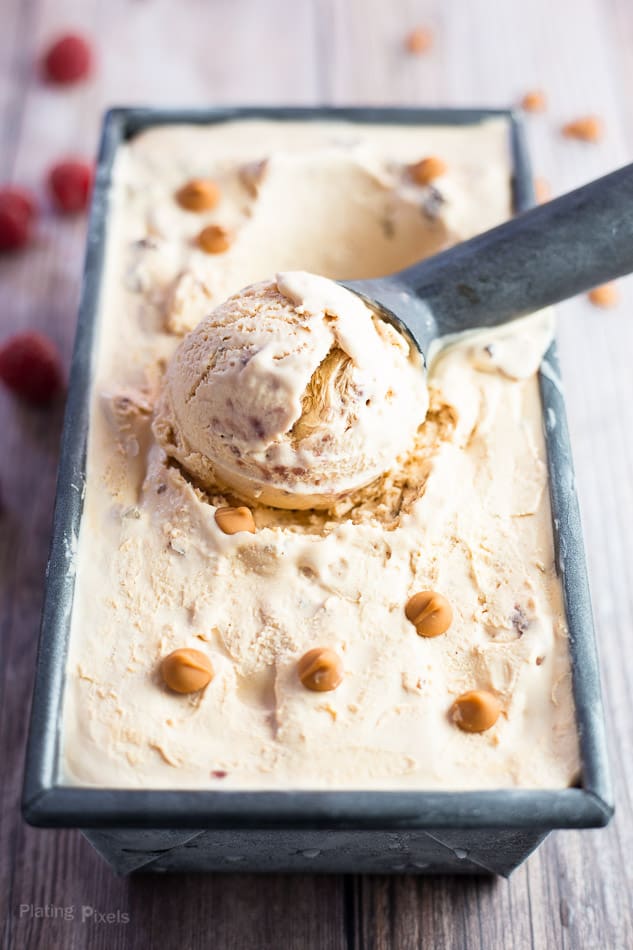 Ice cream is one of my guilty pleasures. While I post (and eat) plenty of healthy foods, we can't forget classics like indulgent ice cream. If possible, I would make and eat ice cream everyday. Luckily common sense keeps me enjoying this as an indulgence only pleasure.
I've found traditional ice cream makers to be more work than it's worth; requiring a lot of ice and salt. This is where no churn ice comes in to save the day, specifically Salted Butterscotch No Churn Ice Cream. It's a simple mixture of a rich homemade butterscotch custard base and fresh whipped cream.
Butterscotch isn't a common ice cream flavor for some reason, but may very well become your favorite! Paired with toasted pecans and swirled-in raspberry preserves. It's a true delight for the senses and tastebuds. This butterscotch no churn ice cream recipe is adabtable with other fruit, nut or preserve add-ins. Or go crazy and replace the butterscotch chips with white chocolate chips (this is on the top of my recipe experimenting agenda and must be experienced).
I used Davidson's Safest Choice™ egg yolks to help create a creamy custard base for this butterscotch no churn ice cream . The benefit of pasteurized eggs, besides general safety and eliminating the risk of salmonella, is you can taste the mixture while making this! Plus they're cage free, hormone free, antibiotic free, and vegetarian-fed. Making your own no churn ice cream means you know exactly what ingredients go into it; better quality eggs is better all around. Learn more at SafeEggs.com, plus find more ice cream and gelato recipe for the summer.
Cooking Tips: Why doesn't no churn ice cream freeze solid?
You may be asking why would I even need extra kitchen equipment and want to use an ice cream maker? Honestly I'm not sure when you can easily enjoy no churn ice cream. The real magic is fresh whipped cream. If you were to make a custard only ice cream base and freeze it, then you'd end up with a frozen solid block.
Whipped cream is made by whipping cream, obviously, and creating air bubbles between the fat molecules in heavy whipping cream. Once you have thick, air filled cream, fold it into the custard mixture. The trapped air creates a fluffy ice cream-like texture. I dare say even better than ice cream! Plus no churning, watching, or extra equipment needed.
[sociallocker][/sociallocker]
---
Salted Butterscotch No Churn Ice Cream recipe at-a-glance:
Difficulty: Easy
Flavor profiles: Bold, nutty and buttery butterscotch flavor mixed with sweet raspberry preserves
Texture: Creamy, fluffy and dreamy ice cream.
Dietary Options/Substitutions: Omit pecan if allergic to nuts.
Are you following me on Pinterest, Facebook, Twitter and Instagram? Also sign up for our newsletter to get all our recipes and cooking tips.
Salted Butterscotch No Churn Ice Cream
Ingredients
2

Davidson's Safest Choice™ egg yolks

1-½

cups

whole milk

2

tablespoons

brown sugar

2-⅔

cups

butterscotch baking chips

1

tablespoon

vanilla extract

divided

¼

cup

chopped pecans

3

cups

heavy whipping cream

6

tablespoons

powdered sugar

¼

cup

raspberry preserves

½

cup

fresh raspberries

Sea salt as garnish
Instructions
Stir together egg yolks, milk and brown sugar in a medium saucepan over medium heat. Cook 6-8 minutes, stirring constantly, until mixture reaches 170º F. Add butterscotch chips and ½-tablespoon vanilla. Continue to cook, stirring often, just until pieces are melted. Remove from heat, transfer to a bowl, and store covered in fridge until chilled.

Toast pecans while mixture is cooling and set aside.

In a large bowl, beat heavy whipping cream on high speed until soft peaks form, about 5 minutes. Stir in powdered sugar and remaining vanilla, continue to beat until thick peaks form. Whisk in cooled butterscotch mixture and pecans until smooth. Pour into a freezer safe container. Drop in raspberry preserves and swirl with a knife to mix in. Cover and freeze at least 6 hours. Garnish with fresh raspberries and desired amount of sea salt granules when serving.
Note: Prep/cook time does not include freezing.
Recipe adapted from Baked by an Introvert.
---
If you make this recipe, take a photo and post it on Instagram and tag @platingpixels or hashtag #platingpixels
Share or Pin this recipe if you like it. Thanks! Let me know your thoughts in the comments below.
---
I am a Davidson's Dozen Brand Ambassador and this recipe is part of a sponsored partnership with Safest Choice™ Eggs.