Spicy Tuna Avocado Boats
Quick and healthy Spicy Tuna Avocado Boats. Avocado halves filled with BOLD Tapatío tuna, organic mayo, green onions and tomatoes. A healthy, gluten-free seafood recipe full of lean protein.
This Spicy Tuna Avocado Boats post is brought to you by StarKist and The Motherhood. All opinions are my own.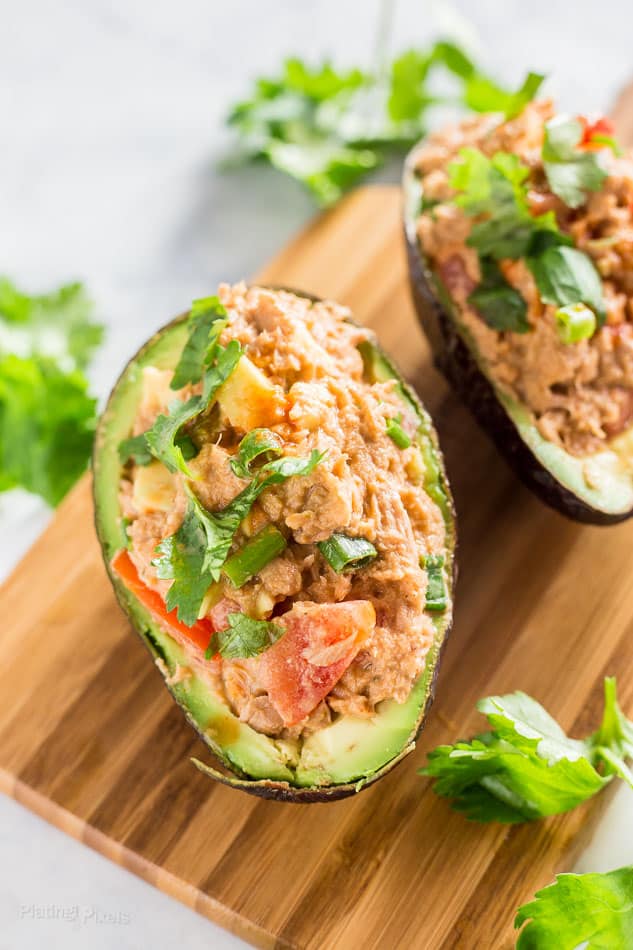 Sometimes the simple things in life are the best. I'm all for elaborate, creative and decadent recipes, but quick everyday recipes help to keep your healthy menu fresh. Whether you're looking for a simple snack, a party appetizer, or lunch to-go, these Spicy Tuna Avocado Boats will help with your healthy eating goals.
I've seen plenty of avocado boat recipes, and love the combination of avocado and seafood, yet have never made them myself. Now I'm hooked. Rich, buttery and soft avocado makes a perfect bowl for a spicy tuna filling.
To make these spicy tuna avocado boats even easier, I used StarKist Tuna Creations BOLD Tapatío. The spicy hot sauce flavor is made from red chili peppers, garlic and vinegar. In addition to avocadoes, it also pairs well with ramen noodles, in a burger, on crackers or straight out of the pouch. It's fully cooked a ready to eat. They store well in your pantry for an easy, healthy snack or meal addition.
StarKist Tuna Creations BOLD offer delicious and nutritious, ready to eat, single-serve pouches to fit your busy lifestyle and add an extra kick of flavor —each is a good source of lean protein and only 110 calories or less. Available in 6 BOLD varieties, including Thai Chili Style, Jalapeño, Hot Buffalo Style, Tapatío, Sriracha,  and Rice & Beans in Hot Sauce. Visit starkist.com, and follow @StarKistCharlie on Instagram and Twitter.
Health benefits of Spicy Tuna Avocado Boats:
Avocados are nutrient rich and full of healthy omega-3 fatty acids. Half an avocado includes about 150 calories, 15 grams of healthy fats, 500 mg of potassium, 8 grams of complex carbs, 7 grams of fiber and 2 grams of protein. They're also full of other vitamins such as C, E, K, B-6, folic acid and magnesium. All these elements have numerous health and preventative benefits.
Tuna is best known for its heart health benefits. It has high amounts of omega-3 fatty acids, which are associated with cardiovascular health. A 100 gram serving is only 180 calories, and provides 180% DV of B12 about about 50% of Niacin and Vitamin A. This small serving is loaded with an impressive 30 grams of lean protein and only 6 grams of fat.
These Spicy Tuna Avocado Boats are filled with a spicy tuna salad mix. Simply combine the BOLD Tapatio Tuna with a bit of organic mayo, chopped tomato and green onions. Fill into scooped out avocado halves and drizzle with additional hot sauce sauce.
---
Are you following me on Pinterest, Facebook, Twitter and Instagram? Also sign up for our newsletter to get all our recipes and cooking tips.
More seafood recipes you may like: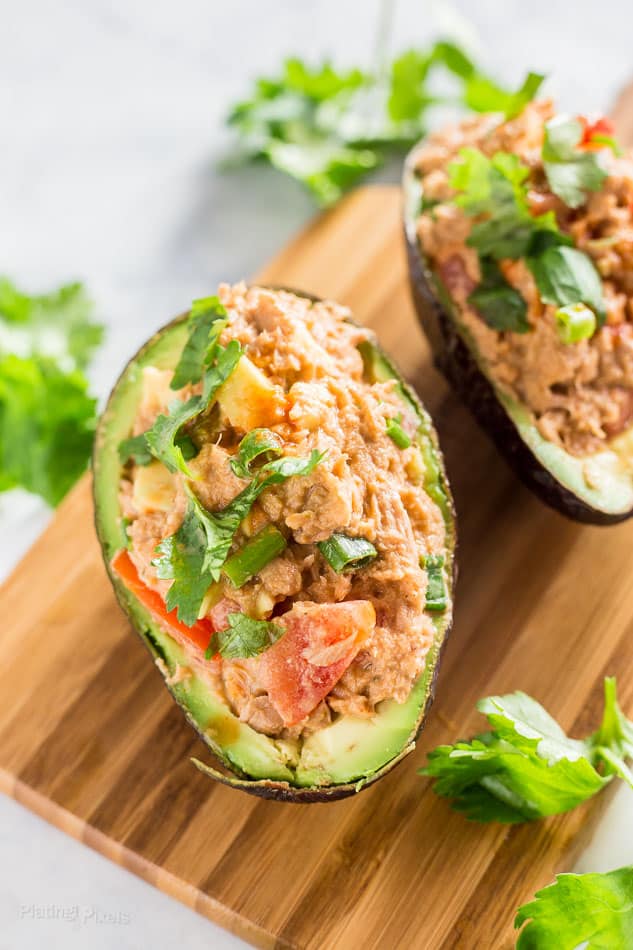 Spicy Tuna Avocado Boats
Avocado halves filled with spicy tuna, mayo, green onions and tomatoes. A healthy, gluten-free seafood recipe full of lean protein.
Ingredients
4

(2.6-ounce) packages

StarKist Tuna Creations BOLD Tapatio

½

cup

diced tomatoes

⅓

cup

mayonnaise

organic

¼

cup

sliced green onions

2

avocados

1

tablespoon

hot sauce

Cilantro as garnish
Instructions
In a medium bowl, mix together tuna, tomatoes, mayo and green onions.

Cut avocados in half, pit and scoop out centers, leaving about a ¼-inch of flesh. Dice removed avocado and stir into tuna mixture.

Scoop mixture into avocado halves, top with additional hot sauce, garnish with cilantro and serve.
---
If you make this recipe, take a photo and post it on Instagram and tag @platingpixels or hashtag #platingpixels
Share or Pin this recipe if you like it. Thanks! Let me know your thoughts in the comments below