Looking for a delicious and wholesome meal that's easy and affordable? Roasted Cornish Hens are small and roast into a wow-your-guests dinner. They require almost no prep and are guaranteed crisp, tender, and oh so fancy.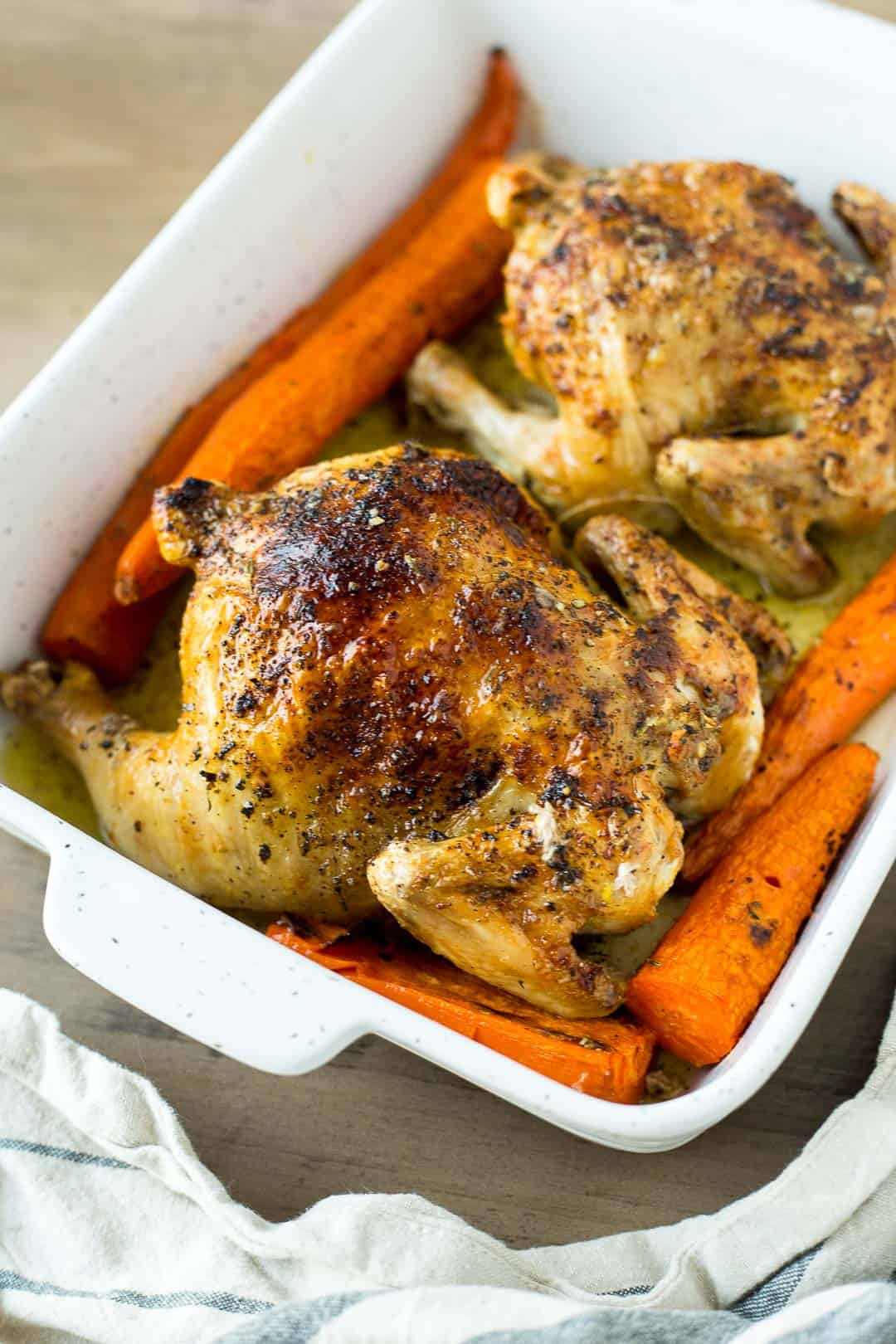 Chicken is usually my go-to poultry of choice and makes up some of my most popular recipes on the blog. Roasted Cornish Hens are a great alternative and just as easy to make. A bonus is roasted hens bake much faster than a whole chicken and are less prone to drying out.
What are Cornish Game Hens?
If you've never roasted a hen, think of it as a small chicken. In fact, that's exactly what they are. It's a smaller breed that originated in England. They typically weigh 1 to 2 pounds each, instead of the 4+ pound starting weight of traditional chicken.
Hens are fully mature and the meat is super tender. If roasted whole, I like them better than chicken. The flavor is pretty much the same, but they bake much faster and are often more tender. An added bonus is you get a more crispy skin-to-meat ratio.
Cornish hens are found in the frozen section of most grocery stores. It's best to purchase them at least 3 days before baking, letting them fully defrost in the fridge.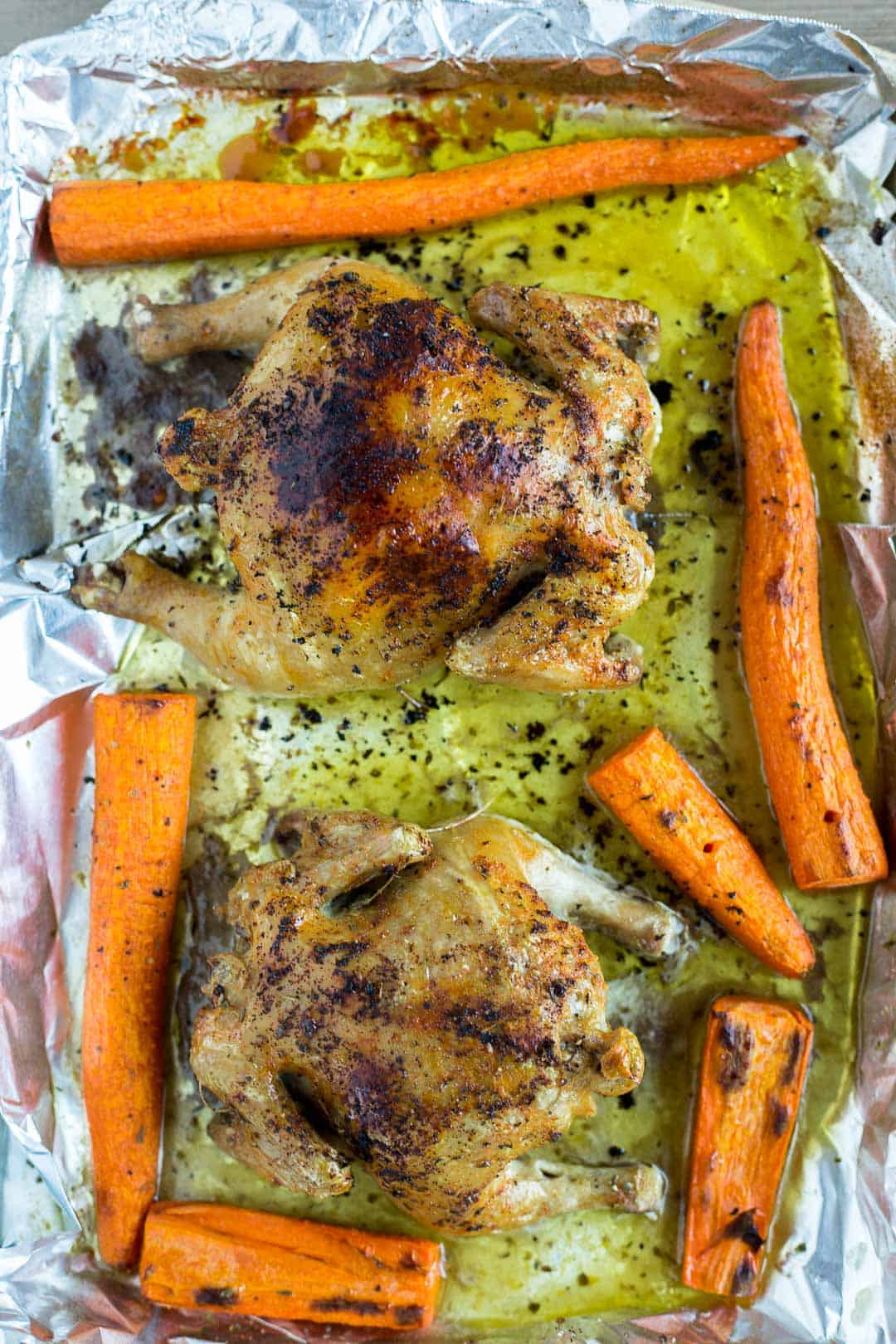 How to Season Cornish Hens
The easiest way to season a cornish game hen is simply with olive oil, salt, pepper, and dry seasonings such as Italian seasoning and garlic.
Pro tip: I like to sprinkle a bit of salt into the opening of the hens. This will help it penetrate from the inside, add flavor and make the meat more tender. You can also add the salt for up to a day and store the hens in the fridge before roasting to allow it to soak into the meat more.
Here are Some Seasoning Options
Mix and match however you like:
Dried Italian seasoning
Lemon pepper
Paprika (regular or smoked)
Garlic salt
Greek seasoning
Poultry seasoning mix
Fresh chopped herbs (best as part of an olive oil mix and rubbed onto the meat)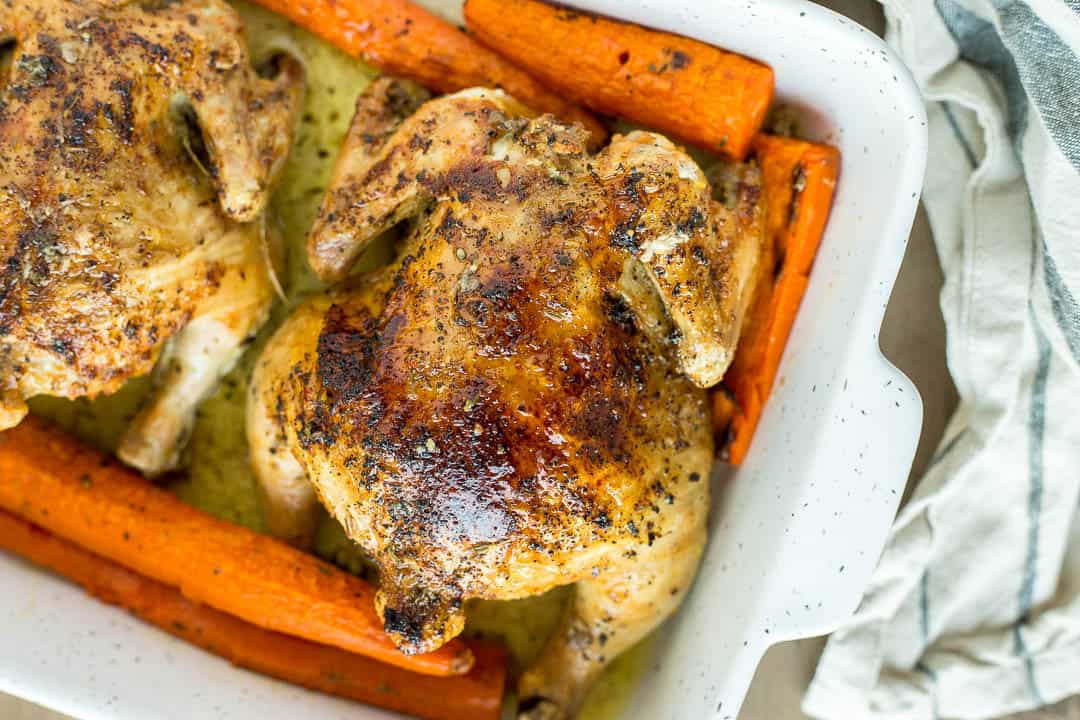 Prepping the Hens
Preparing cornish hens is as easy as can be. Follow the steps below:
Rub with a bit of olive oil, then top with salt, pepper, and desired seasonings. Season the insides as well.
Place hens on a foil or parchment-lined baking sheet or pan.
Bake as instructed in the recipe below. Let sit about 5 minutes at room temp, then serve.
How Long to Roast Cornish Hens
At 400º F a 1.5-pound cornish hen should take about 50 minutes to bake. The final time depends on the size, but the internal temp should reach 165º F with a thermometer.
Is High Heat or Low Heat Better?
Some roasted Cornish Hen recipes call for preheating the oven to really high heat, adding the hens, then reducing. Others call for a lower temp (350-375º) and longer baking times. To make things simpler, I suggest meeting in the middle. A single mid-high temp, which reduces the baking time, but still creates brown, crisp skin.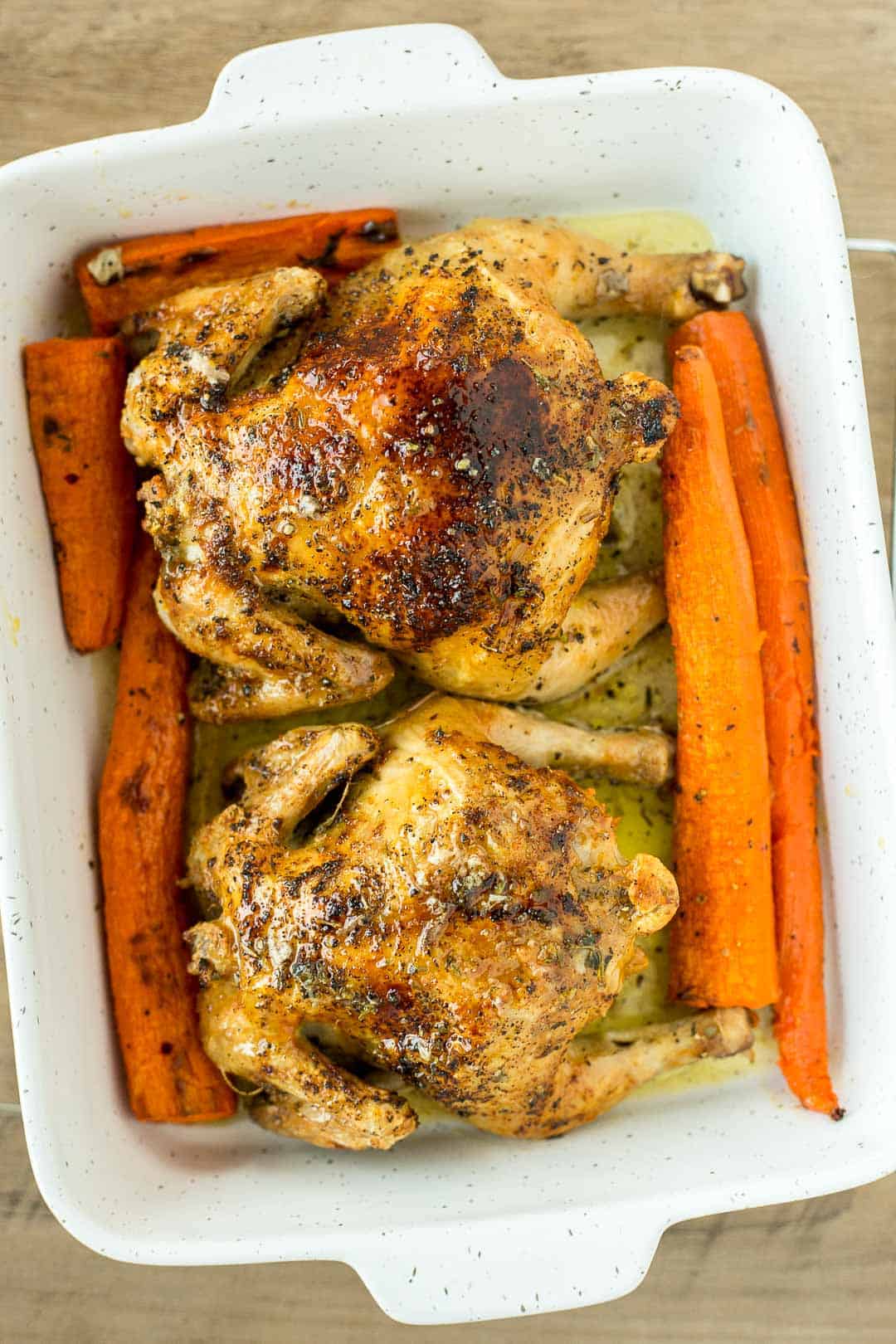 Do You Need to Bring the Hens to Room Temperature?
As with most meats, it's best to let it sit at room temp at least 15–30 minutes before cooking. This allows for more even cooking. I've tried both ways and the hens are tender enough to skip this step. Just be sure to not overcook.
If cooking from room temp, you can cut back the baking time by about 5 minutes.
Roast the Hens with Veggies
To make this a simple, all-in-one meal, I like to add vegetables while baking. You can do this towards the end since most only take about 12-15 minutes to roast. If adding heartier veggies such as potatoes, you can add them at the beginning.
Some of my favorite veggies to roast with game hens are carrots, asparagus, broccoli, brussels sprouts, and potatoes.
---
Sides to Serve with Cornish Hens
Leave a comment below and star rating if you made this recipe or want to share your thoughts.
Are you following me
on
Pinterest
,
Instagram
,
Facebook
, and
Twitter
? Also,
sign up for our newsletter
to get all our recipes and cooking tips.
---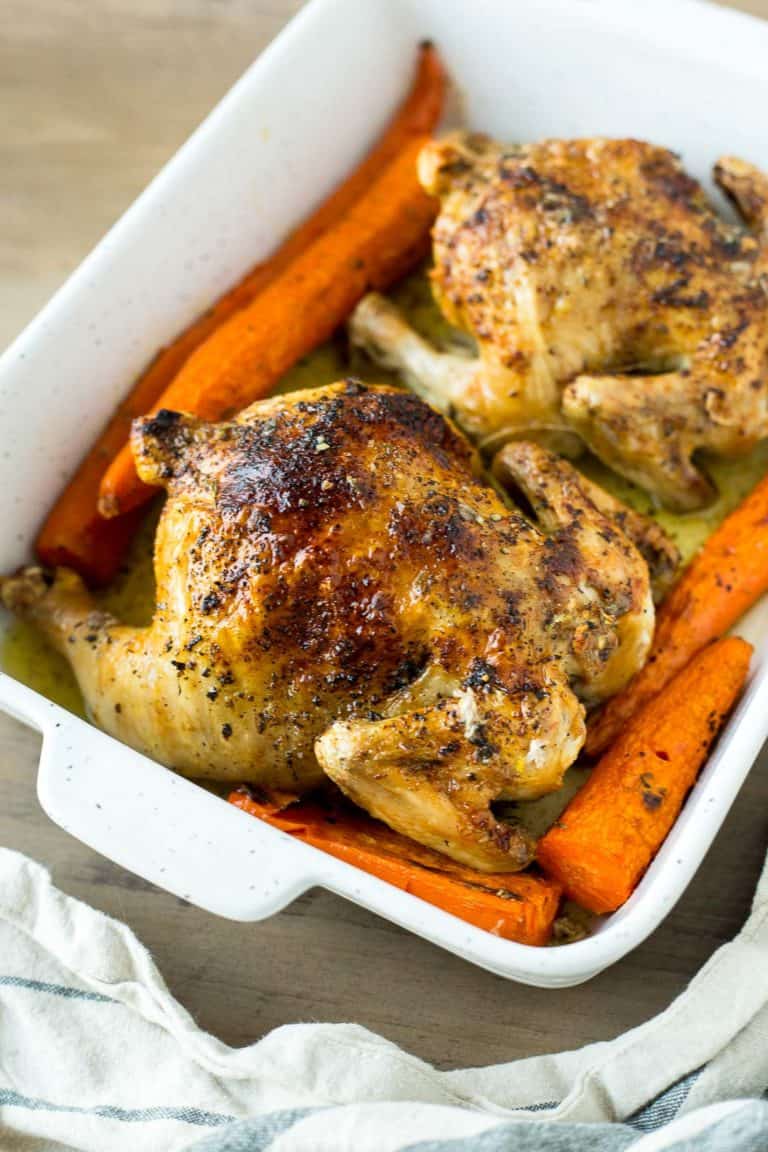 Print
Roasted Cornish Hens
Roasted Cornish Hens are small and roast into an easy fancy dinner that's both wholesome and delicious.
Author:
Matt Ivan
Did you know?
Servings and ingredient amounts can be adjusted on all my recipes. Click the green number above to change.
Ingredients
2

cornish hens

,

about 1.5 pounds each

2

teaspoons

Italian seasoning

1

teaspoon

garlic powder

1

teaspoon

salt

½

teaspoon

pepper

2

tablespoons

olive oil
Instructions
Preheat the oven to 400º F. Combine dry seasoning ingredients in a small bowl. Rub each hen with olive oil, then sprinkle with the seasoning mix. Season or salt the insides as well. See note below for additional seasoning options.

Place the hens on a foil or parchment lined baking sheet or pan, then place in the oven. If baking with vegetables, see the notes section below.

Bake for 45–55 minutes, or just until the centers reach 165º. Then skin should be browned and crisp as well.

Remove from the oven and let sit at room temp for 5–10 minutes before serving.
Notes
Cornish hens are usually frozen. Be sure to thaw them in the fridge about 3 days before roasting.
Seasonings you can try:
Dried Italian seasoning
Lemon pepper
Paprika (regular or smoked)
Garlic salt
Greek seasoning
Poultry seasoning mix
Fresh chopped herbs (best as part of an olive oil mix and rubbed onto the meat)
If baking with vegetables:
Heartier vegetables such as potatoes and carrots can be seasoned and added at the beginning
For softer vegetables that bake faster such as asparagus and broccoli, season and add to the pan before the last 12 minutes of baking.
Nutrition Facts
Roasted Cornish Hens
Amount Per Serving (0.5 hen)
Calories 512
Calories from Fat 342
% Daily Value*
Fat 38g58%
Cholesterol 225mg75%
Sodium 700mg30%
Potassium 530mg15%
Carbohydrates 1g0%
Protein 38g76%
Vitamin A 243IU5%
Vitamin C 2mg2%
Calcium 27mg3%
Iron 4mg22%
* Percent Daily Values are based on a 2000 calorie diet.
Like this recipe?
Visit @platingpixels on Pinterest to discover more. Pin it with button below to save recipe for later.
Don't forget to leave a comment below and rate this recipe if you like it →