Learn how to grill ribeye steak that is juicy and tender for a summer date night. Simple tips to cook the best rib eye steak on the grill.
This How to Grill Ribeye Steak post is sponsored by BabbleBoxx.com. All opinions are mine alone.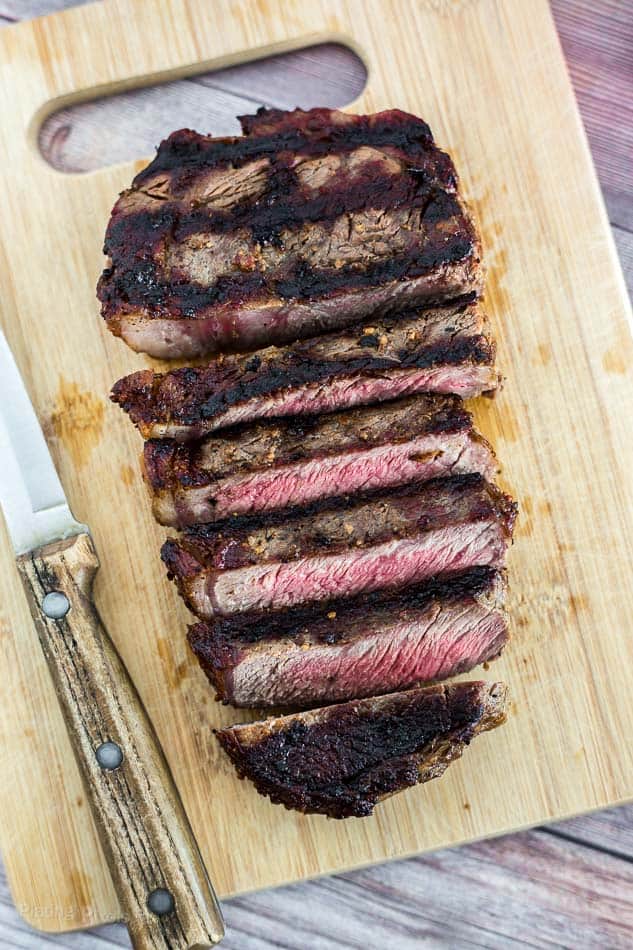 Trying new foods and restaurants is one of my favorite hobbies, and a great way to find new recipe inspiration. Generally we go at least once a week, and often to a new place. For the rest of the week, home cooked meals are the way to go. That doesn't mean they have to be simple or an afterthought. With a few simple ingredients and some tips you can learn How to Grill Ribeye Steak.
Ribeye steak comes from the lightly worked upper rib cage area, creating a tender, flavorful cut of meat. The marbled fat works well for fast, high heat cooking such as grilling.

Tips for Grilling Ribeye Steak
Use quality meat: Since flavor come only from the meat (plus some simple seasoning) it's important to use high-quality meat for optimal flavor and texture. I used Fareway Meat Market which I'll cover in more detail.
Use a simple dry seasoning: Even just salt and pepper work well, or use a steak seasoning which includes ingredients such as garlic, salt, pepper, coriander, oregano and/or chili.
Season meat ahead of time: Season at least 1-2 hours ahead of time, or overnight. This allows flavors to soak in and the salt helps tenderize meat proteins and creates juicer meat.
Bring meat to room temperature: Let sit at least 30 minutes before cooking. This ensures more even cooking throughout and better internal temperature control.
Use high heat, then reduce: Preheat grill to medium-high or about 500° F. Add steaks, close lid, then reduce heat to medium. This creates a quick sear on outsides, then finishes with even cooking.
Cook to desired doneness: Check temp while on grill. Rare: 135 to 140° F. Medium Rare: 140° F. Medium: 155° F. Well Done: 165.° F
Rest 5-10 minutes before cutting: This allows moisture to be absorbed back into meat proteins and reduces liquid loss.
How to find quality ribeye steak
For quality and flavor I used Fareway Meat Market. With 80-years of experience, they provide Midwest-raised, cut-to-order meat from expert butchers. It's hand-cut fresh, tender and rich in flavor, without any of the additives that come from processing. Shipments always contain the highest quality meat products and will always exceed expectations for both size and quality, arriving frozen to ensure proper food quality and safety.
Looking for perfect dinners for a great summer date night? Try their Date Night Bundle that includes two 10 oz. Iowa Pork Chops, two 8 oz. America's Cut Boneless Pork Chops, and two 12 oz. Beef Ribeye Steaks. Regular Price: $84.97, Bundle Price: $59.99. Fareway Meat Market also provides meats such as Butcher's Blend Ground Beef and Premium Steak Burgers, made exclusively with the highest quality cuts of steak and ground to perfection.
Try pairing a simple cocktail with grilled ribeye steak on your barbecue-themed summer date nate. Southern Breeze Cold Brew Sweet Tea Bags make sweet tea quick and easy. The calorie free sweetener is already in the tea bag and all their iced teas can be made in just 5 minutes. They're available in 4 flavors (original, peach, raspberry, half tea half lemonade) and individually wrapped for easy on-the-go tea.
Southern Sweet Tea Bourbon Cocktail: Mix half Southern Breeze Cold Brew Sweet Tea and half lemonade. Pour in a glass filled with ice and stir in desired amount of bourbon.
---
Leave a comment below or star rating if you made this recipe or want to share your thoughts.
Are you following me
on
Pinterest
,
Instagram
,
Facebook
, and
Twitter
? Also,
sign up for our newsletter
to get all our recipes and cooking tips.
---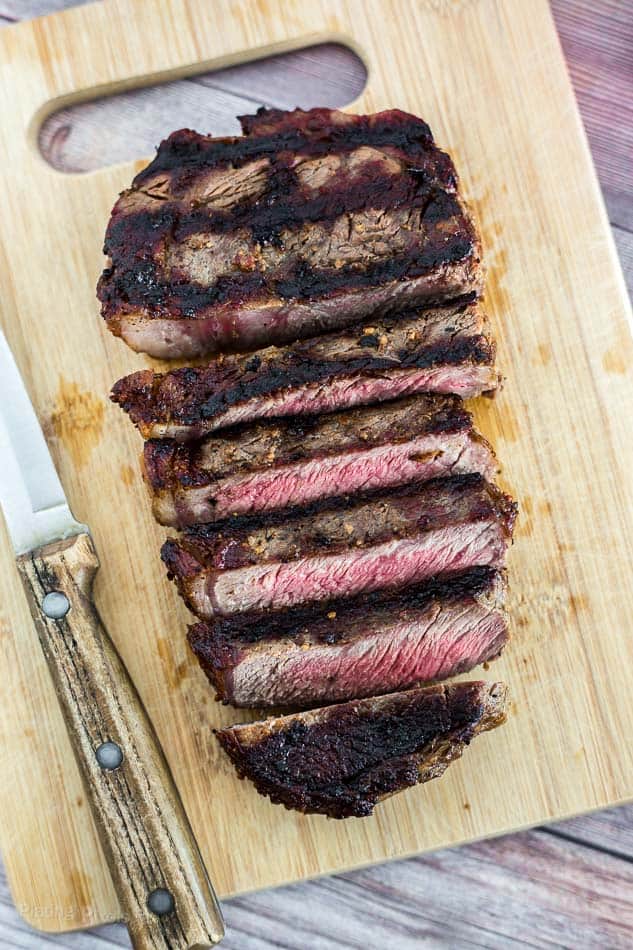 Print
How to Grill Ribeye Steak
Learn how to grill ribeye steaks that are moist and tender with these simple tips.

Did you know?
Servings and ingredient amounts can be adjusted on all my recipes. Click the green number above to change.
Ingredients
2

large

Beef Ribeye Steaks

,

8-12 ounces each

1

tablespoon

steak seasoning
Instructions
Generously season both sides of steaks with steak seasoning.

Let sit in the fridge at least 1 hour, up to overnight. Remove from fridge and bring to room temperature, 30-45 minutes, before cooking.

Preheat gas grill to medium-high heat, about 500° F. Place steaks on the grill, close lid and reduce heat to medium. Cook 4-6 minutes until bottoms are seared.

Rotate and cook about 5 minutes more, or to an internal temp of 135° to 140° F for rare to medium rare.

Remove from grill and let sit 5-10 minutes before cutting and serving. It will continue to cook slightly, about 5° while resting.
Notes
A steak seasoning with salt is recommended to help tenderize meat and bring out flavors. Most do, but otherwise sprinkle some salt on both sides as well.
Nutrition Facts
How to Grill Ribeye Steak
Amount Per Serving (1 613.30)
Calories 619
Calories from Fat 378
% Daily Value*
Total Fat 42g 65%
Cholesterol 0mg 0%
Sodium 0mg 0%
Total Carbohydrates 1g 0%
Protein 56g 112%
* Percent Daily Values are based on a 2000 calorie diet.
Like this recipe?
Visit @platingpixels on Pinterest for even more. Pin it with button below to save recipe for later.
Don't forget to leave a comment below or rate this recipe →
---