Grilled Keto Cheese Burgers on Portobello Buns
Homemade Grilled Keto Cheese Burgers on Portobello Buns fit into your low-carb, high-fat diet. Made with lean ground beef, cheddar cheese, bacon, avocado and portobello mushrooms.
This Grilled Keto Cheese Burgers recipe is sponsored by Black Creek but the content and opinions expressed here are my own.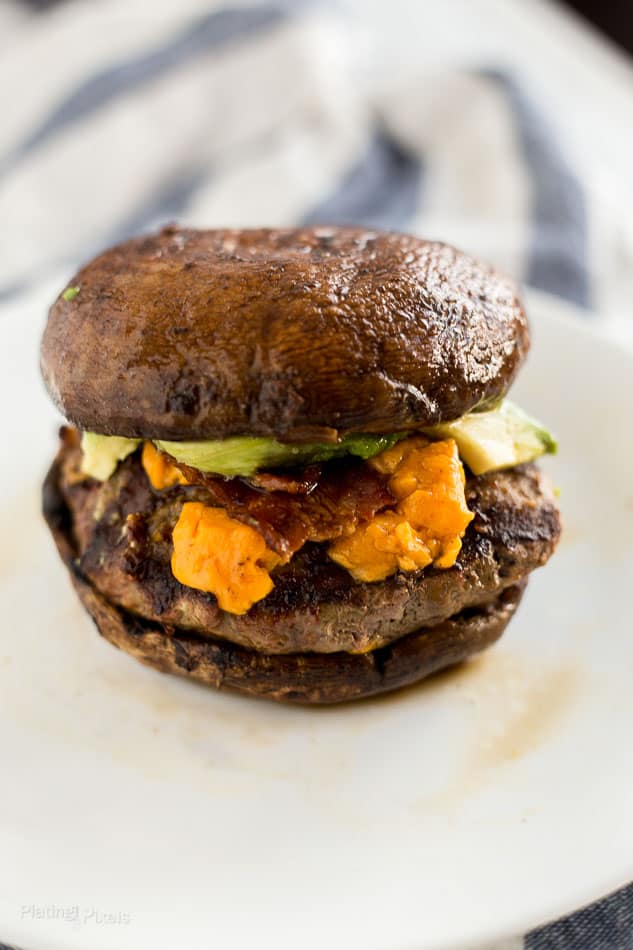 Cheese burgers have always a favorite of mine, especially when they're grilled. I'm talking about fancy restaurant burgers or homemade. This is important because you know exactly what ingredients are going in them and can control the quality, and therefore flavor. These Grilled Keto Cheese Burgers are loaded with flavor thanks to clean, quality ingredients.
What is a keto diet?
If you're not familiar with a keto diet, it basically consists of a moderate amount of protein, very limited complex carbs and plenty of healthy dietary fat. In theory this makes your body burn fat, since that's its primary source of fuel, instead of sugar or glucose. While I'm not limited to any particular diet, this sure isn't a bad way to eat. Ground beef, cheddar cheese, bacon, avocado and veggies, yes please. It's a bomb of flavor and totally a keto cheese burger.
Tips for a better keto cheese burger
To make these burgers keto, I used portobello mushrooms as the bun. You may have heard of portobello burgers as a vegetarian option, but these are reversed. With minimal ingredients, quality is key for flavor and health in these Grilled Keto Cheese Burgers. When possible, use grass-fed and/or organic ingredients. For the cheese I used award-winning Black Creek® premium Cheddar cheese, specifically their Extra Sharp Aged 2 Years.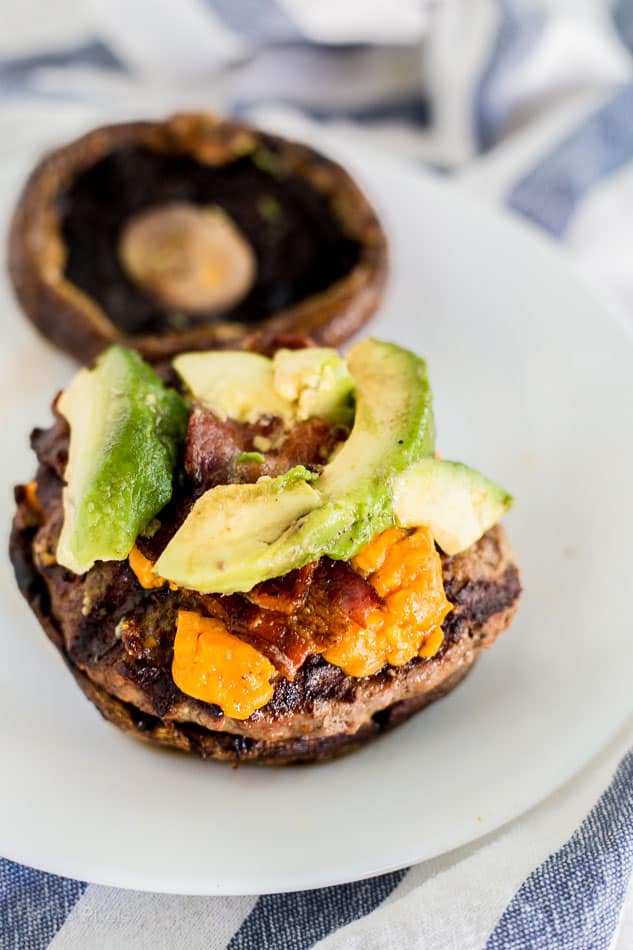 Their cheeses start in Wisconsin's Fox River Valley, an area known for its picturesque pastureland. The region's cows graze on nutrient-rich grasses, creating distinctly rich and creamy milk. The milk is then cultivated into smooth, full-flavored Cheddar with a flavor profile that is both rich and nutty. Learn more about Black Creek® here.
These Grilled Keto Cheese Burgers also include organic ingredients such as lean grass-fed beef, hormone/nitrate-free bacon and egg, as well as avocado and portobello mushrooms. Grilling season is always better with cheddar and keto burgers loaded with delicious flavor.
---
Are you following me on Pinterest, Facebook, Twitter and Instagram? Also sign up for our newsletter to get all our recipes and cooking tips.
More burger recipes you may like: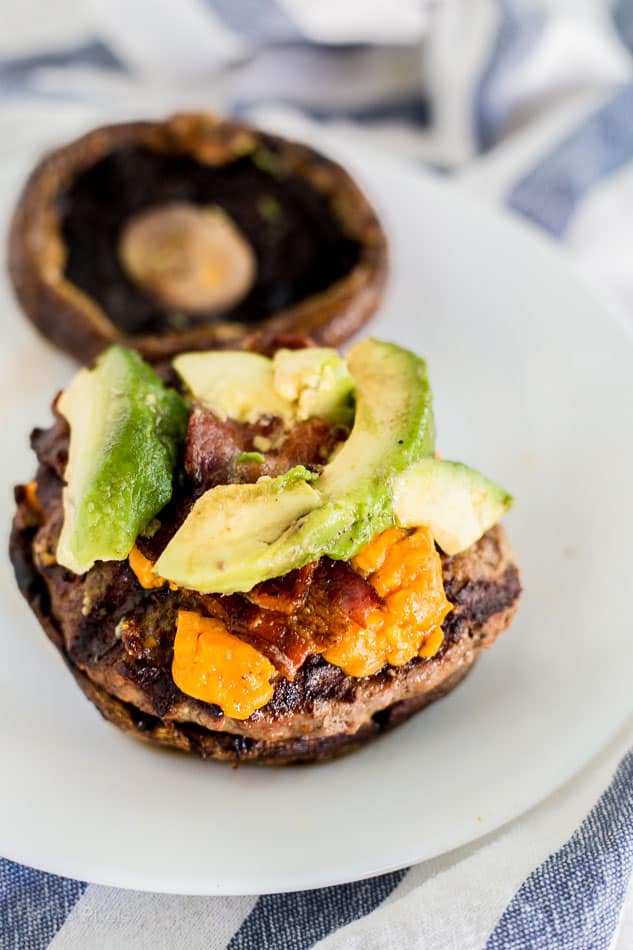 Grilled Keto Cheese Burgers on Portobello Buns
These Grilled Keto Cheese Burgers fit into your low-carb, high-fat diet. With lean ground beef, bacon, cheddar cheese, bacon, avocado and portobello mushrooms.
Ingredients
1

pound

lean ground beef

grass-fed

3

slices

bacon

hormone/nitrate-free

1

large

egg

1

tablespoon

worcestershire sauce

½

teaspoon

garlic powder

½

teaspoon

salt

¼

teaspoon

pepper

3

portobello mushrooms

3

ounces

Black Creek® Extra Sharp Cheddar cheese

sliced or crumbled

1

avocado

sliced
Instructions
Let ground beef sit at room temp 20-30 minutes. Preheat gas grill to medium-high heat or prepare coals if using charcoal.

Cook bacon in non-stick pan over medium-high heat until crisp, 2-3 minutes per side. Drain and set aside. Alternately you can cook them on grill with burgers.

In a medium bowl mix together ground beef, egg, worcestershire sauce, garlic powder, salt and pepper. Form into 3 patties, about ¾-inch thick.

Place burger patties and mushrooms on lightly greased grill and cook 4-6 minutes, until sear marks form on bottom. Reduce heat to medium and flip items. Cook about 5 minutes longer or until seared, mushrooms are tender and burgers reach and internal temp of about 150° F for medium. Top each burger with desired amount of cheddar right before end of cooking and melt.

Place burger patties on mushrooms and top with avocado and cooked bacon.
Recipe Notes
Note: Makes 3 open face burgers. Cook 6 thin portobello mushrooms if you want for both sides.
If you make this recipe, take a photo and post it on Instagram and tag @platingpixels or hashtag #platingpixels.
Share or Pin this recipe if you like it. Thanks! Let me know your thoughts in the comments below.
---
Look for Black Creek® cheeses in the refrigerated section of your local Target or grocery store.